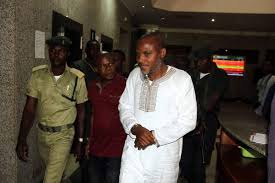 Nnamdi Kanu, leader of the Indigenous People of Biafra (IPOB), has on several occasions violated the conditions of the bail granted to him by a federal high court in Abuja.
On April 25, a federal high court sitting in Abuja granted him bail on health grounds and ordered him not to grant press interviews, and avoid being seen in a crowd of more than 10 people.
But Kanu has not only addressed hundreds of his supporters but also granted media interviews. In an interview, he told Al Jazeera that he was not bothered about landing in trouble over his actions.
Furthermore, in a video by Biafra TV, Kanu was seen walking in the midst of hundreds of his supporters. He exchanged pleasantries and shook hands with the people who had memorabilia of Biafra all over them.
Kanu has on several occasions flouted the order by addressing the press and other gathering with people more than 10.
The consequence of any breach of bail conditions is the revocation of the bail.
It is time for the Federal High Court sitting in Abuja to revoke the bail granted the leader of IPOB, by Justice Binta Nayako on the grounds of struggling for relevance and continued flouting of the conditions attached to his bail.
Obviously, the unruliness with which he made media statements and even organised the 'Sit at Home' protest to mark the Biafra Day on Tuesday, 30th May, 2017 is a threat to the unity, security and peace of Nigeria as a sovereign nation.
Kanu is trying to push our dear country Nigeria into an unnecessary hazardous situation for his personal agenda and those of his sponsors.
Unfortunately, the IPOB may create a situation where it becomes difficult if not impossible for genuine development to take place in the South East under the administration of President Buhari.
For instance, Kanu has ordered Igbos in Anambra state not to exercise their franchise in the upcoming Guber election in November until the federal government addresses his group's demand for a referendum on Biafra. – an attempt to derail democracy in the state and expose the people to anarchy.
The struggle by Kanu to be relevant under the guise of actualisation of Biafra does not enjoy the support of right thinking Igbo people both at home and in diaspora.
His actions and activities had prompted northern youths under the aegis of 'Arewa Youth Forum' in Kaduna to serve quit notice to Igbos living in the North. Kanu's agitation has also revived the call for Oduduwa republic, which before now, has been forgotten.
Kanu had been found to have flouted some of the conditions attached to his bail, hence, his bail be revoked immediately for continued peace in the country. 
Gbenga Odunsi currently edits AljazirahNigeria Newspapers. He can be reached onadeboyeolugbenga70@gmail.com