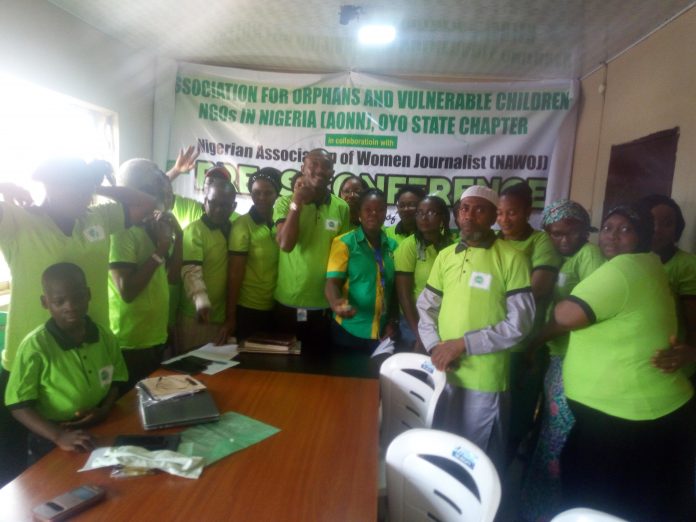 Concerted efforts must be put in place by all tiers of government as well as private sectors to ensure issues surrounding the well-being and protection of children are re-evaluated to pave ways for new approaches, children-friendly policies and laws that will bring about better services for children in Oyo State.
This was part of the submission of
the Association of Orphans and Vulnerable Children NGOs in Nigeria (AONN), Oyo State chapter at the 2019 celebration of International Day of the African Child with the theme "Humanitarian Action in Africa: Children's Rights First
AONN noted that "Children all around the world are facing a lot of challenges as their rights and privileges are been trampled upon by people who ought to be protecting them."
"Children constitute a significant proportion of populations on the move across international and national borders globally, with a large number of those children moving from and across Africa, Nigeria especially children in South West and Oyo in particular. In Africa, 50% of refugees are children, with about 3 million children forced out of their origins due to various humanitarian crises. Among migrants, nearly 1 in 3 is a child, which is more than twice the global average."
Adressing a press conference in Ibadan, AONN urges Government agencies, private sectors and major stakeholders must rise up to defend the Rights of Children. The commemoration is not for funfair but to reflect on how best to shape children, secure their future and work on their overall wellbeing.
The statement which was read by Mr Marcus Williams read further that "Due to significant number of affected children, we recognise that children face unique protection risks, that require that government and other partners work together to reduce these risks through the strengthening of child protection systems"
While emphasizing on the need of the children, the group said " Access to education and learning helps children cope with the trauma of humanitarian and societal concerns, enabling them to build resilience and provides them with some form of stability.
It added that 'Good quality education, with its content focused on children's development, is able to prepare children for preventing and dealing with or responding to humanitarian crises, by equipping them equipping them with practical skills to enhance their protection and survival.'
While advocating for the establishment of a functional family court where perpetrators of violators of physical abuse against the children are brought to Justice, AONN also urged the government to develop and implement state and local strategies to prevent humanitarian emergencies, reduce school dropouts eliminate GBV concerns around children and where there exist, steps taken to ensure that the protection of the rights of children is prioritized
They laud Engineer Seyi Makinde, the executive Governor of oyo state for prioritizing education in the state and appeal to him to do more in ensuring that laws that protects the rights of children are enforced and the populace sensitized on existing laws with emphasis on penalties when the Rights of children are trampled upon.
"It is the duty of the government to protect and fulfil the Rights of children but the roles of the private sector cannot also be overemphasized. Hence, we want them to reinforce government efforts by contributing their own quota to the overall development of children in Oyo State."