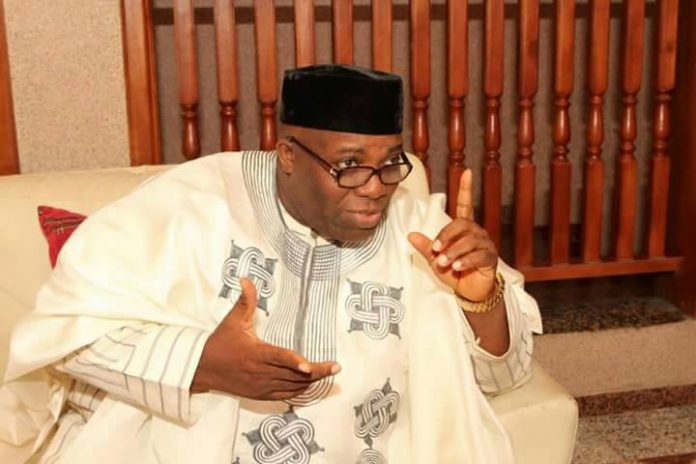 Dr. Doyin Okupe is the South west leader of Accord Party and was a Special Adviser on Media and Publicity to the immediate past president, Dr. Goodluck Jonathan.
He recently spoke on the state of the nation and other burning national issues in the country in an interview with Femi Salako. Dr. Okupe also bore his mind on recent declaration by President Buhari to seek reelection next year and the likely implications of this decision on the existential well-being of Nigerians.
What's your reason for leaving the PDP to have pitched tent with the Nigeria Coalition Movement led by Olusegun Obasanjo
My reasons for leaving the PDP had been earlier discussed severally. But I left the PDP because I fundamentally disagreed with what was going on in the party. More importantly, the nation is in a state of anomie now and there is actually a need for patriots to find a way to safe our democracy. Yes, Obasanjo is like a political godfather to me. I believe in him and I also trust him. If there is a nationalist in Nigeria, Obasanjo is one and I believe that he mean well for Nigeria. You may not like his style, but we need to look beyond the surface. CNM is a brilliant idea and to every discerning mind, it's absolutely impossible to oppose the incumbent and a towering figure like President Mohammadu Buhari and hope to win. To defeat Buhari will take exact reversal of Bola Tinubu and others were able to do with APC. A broad platform encompassing the political majority in the country must be put together to present a candidate to contest against Buhari with the hope of being able to win. To that extent, the coalition that Obasanjo is leading is what I'm proud to be a part of and I'm part and parcel of it. Even though I'm the South west leader of Accord Party. As a party, we identified with that movement and we hope to come to a working relation in not too distant future.
Chief Rasheed Ladoja a former leader of Accord Party is now back in the PDP, how do you reconcile that?
There is nothing to reconcile really.
All politics is local like they say. The primary motive of Chief Ladoja at his age is to look for way to wrestle power from the ruling party in Oyo state which he had tried so often and has not been able to satisfactory do in recent time. I have held meetings with him and he figures out that unless he is able to put together a Coalition, he may not be able to confront the APC machinery. And in doing so, majority of the tendencies in Oyo state were tilting towards the PDP. I was there in one of the meetings when a delegation from Oyo state came to him to lead them into the PDP. They believe that is the only way to unite and take power from the APC. He conceded and that was why he went to the PDP. But I don't think he is well treated in the PDP. You really cannot say he is in PDP now. He is more or less in a limbo now. He is not in PDP and not out of of PDP. But I know for a fact that they are looking for ways to achieve their original objective.
What is your take on the spate of killings in the country?
Every sane Nigerian must be worried. I am more than worried. In fact, I'm perplexed. Something profoundly evil is going on in the country. The blood letting is too much. The frequency and viciousness of the attack is confounding. What is more perplexing is that we cannot really say the same of efforts from the government to counter this evil. I have said it to many people and on my social media platforms that this is beyond Fulani herdsmen and farmers clashes. I may be wrong and may be right. It no longer make sense to assume that. I don't think President Buhari was too much out of order, perhaps he didn't put it well when he said these are people trained by Ghadaffi. What he probably had meant to say was that people that were trained in Libya had come down and are wrecking havoc in our system. That would have been more credible. There is also a shade of opinion that what we are seeing is a break away faction of Boko Haram that has actually teamed up with ISIS. The signature we are seeing in these attacks is mindless killings, arson and massive destruction. This is so typical of ISIS operations. It is better for us as Nigerians and those who lead us to term with this reality. They will not want to sound alarmed that we are not through with Boko Haram yet and we now have ISIS which may bring panic. Let us speak the truth and let the devil be ashamed. We have ISIS operating in Nigeria and it is another form of extreme Islamic fundamentalism in a very vicious and dangerous form. If you look at it, Boko Haram is located in the North East and not going beyond the zone. But if you see what is going on now, we have some very serious attacks in Benue, Jos, Kaduna, Zamfara, Kano, Kogi, Edo and Ekiti. That is no longer Fulani herdsmen attack. By my own understanding, the Fulani herdsman is very protective of his herds. He overreaches himself in the provision of food and water for the herds. I don't see a Fulani man after having fed his cows and burn the farm in which the cows have eaten and go to the villagers that own the farms to kill and burn them. It doesn't make any sense. That has gone beyond tendering cattle. The herdsmen tendering cattle is something that anti dated time and history. It is something that is beyond 400-500 years. It has been from the time we existed here. These Fulani go around west Africa with their cattle in search of food and water. This metamorphosis into armed militia. If strange, it is not in conformity with what we have. And it is a misnomer to say there is a Fulani /farmers clash. A clash is when one group fights another. No farmer is clashing with herdsmen here. Now it's the militias that are not just killing farmers, but going to churches to kill priests and worshippers. What has that got to do with Fulani herdsmen? There is more fundamental matter here, and the earlier the government looks into it the better. Unfortunately, the government is headed by a Fulani and tend to protect the image of other Fulanis that they are not killers and get prejudiced in what they do. But there is no need to protect what is not true. If there is anything to protect, it should be the lives and properties of Nigerians. Impression is being given that it's Fulani people that are involved in the mayhem. So government must try as much as possible to remove this toga, otherwise it will not be in the interest of everybody. In any case, if we are not able to put an end to this murderous activities of the terrorists, it will put an end to our peace (God forbid).
Has the President acted Right in nation's interest concerning the transfer of unappropriated fund to the United States for the purchase of Tukano helicopters
In actual fact, purchase of the helicopters was something that originated from the National Assembly. It was when a team from the United States visited the National Assembly that this idea was bounced from their discussion. Those who defend the government on account that there is a Supreme Court judgement that declared the Excess Crude Account as an illegal account. Therefore any withdrawal from it should not follow legal process; as far as I'm concerned it doesn't make sense. Two wrongs does not make a right. If you say it does not need to follow legal process, why then does the President recently write to the National Assembly to put it in the budget? As far as I'm concerned, that's an admission of guilt. The relationship between the executive and the legislator is always frosty and this is not peculiar to Nigeria. I have served under two presidents and I have gone through this. The executive must go out of their way to court the legislature. It's got nothing to do with pride. A Yoruba proverb says it is a man that has purpose in life that will work towards the successful implementation of his purpose. "Alatise la mo atise are e ". It is the executive that executes projects, but the power to give approval for execution of the projects resides with the legislative houses. The dexterity of the executive to come to consensus with the legislature is what will show the proficiency of those that head the executive in their jobs. Personally, I'm extremely very proud of this 8th senate. And I believe sincerely that they have done more to protect democracy than their previous counterparts. In the moment of severe stress when the president was ill and even friends of this administration wanted the president removed, the Senate stood their grounds to stabilize the country. They stood as bulwark and did not allow our thinking and frustrations to override them emotionally. I must give a lot of commendation to Dr. Bukola Saraki, the Senate President. In my opinion, he is the most cerebral of all the Senate Presidents we have had. We have in him a quintessentially sane, focused and cerebrally balanced young man that has the control and respect of his colleagues. If not for that fact, we would probably be in much more serious trouble by now. Look at what happened last week when people genuinely raised the expenditure of the executive without consent of the National Assembly. It is an impeachable offence as a matter of fact, sentiment apart. But look at the dexterity and maturity that was applied by the Senate President that was devoid of indecorous behavior because of the confidence that his colleagues repose in him. He was able to manipulate and douse the tension by taking the issue to Judicial Committe. That is the hallmark of a true nationalist and a leader. This is a man that is being vilified by the same executive. I don't think leadership comes better than that. Having said that, the executive needs to do much more. It has nothing to do with personality clashes. The three arms of government are on equal pedestals. Talking about non passage of budget, I read that heads of the MDP have refused to defend their budgets. Someone should have given them a marching order if they had taken their jobs seriously and that was what the president did. And they are about rounding up the job now. I have implicit faith, confidence and I'm proud of this senate and National Assembly in general. We are in a safe hands with them.
What is your take on the allegation that Saraki is overbearing and always looking for slightest opportunity to take on the presidency
I am glad you ask this question.
Saraki to me is not overbearing. He is only decisively focused.
How come he now has an opportunity to allow the impeachment process to go ahead but stopped it? How come he did not constitute a medical team to visit the president in London when he was sick to determine if he was fit to continue? What they have done is to ensure that the legislature is not a rubber stamp of the executive. That is not what is intended by the constitution. I see Saraki as an intelligent and patriotic democrat who is firm and focused. Any leadership that is not firm and focused is useless. If you must lead you must show the way and in showing the way you must be firm. This person has shown strength, intellect, capability and popularity amongst his colleagues.
The Omo-Agege saga has been described as an assault on the nation's democracy, do you agree with this
The Omo-Agege saga is what any right thinking Nigerian must condemn. It is indecent, indecorous, condemnable and beyond reason. When we continue to compromise our institutions and they become ineffective, we can no longer keep complaining. What happened on that day is a memory that God should blacken out of our minds. It is the height of ignominy and if Omo-Agege is someone that has self respect, he should by himself leave the senate. If I was from his district, the man will not be worth toilet paper in my eyes. Contrary to people's belief, he was not suspended because of the reordering of elections sequence, he was suspended for taking the senate to court. He came to apologize on the floor of the senate for certain thing he did wrong and went to court on the same matter. There are certain issues that we must not allow partisanship to erode our conscience because those who are there today may not be there tomorrow. But the institutions will remain. What is not good is not good. Omo-Agege's action and those who backed him did a terrible injustice to the sacredness of the red chamber.
What can you say on Dino Melaye that jumped out of a moving police vehicle
On the overall, I think the police is overreacting on Dino Melaye's case. Dino is just an individual who has problem with the governor of his state. If the impression is being given that the governor can manipulate the entire police force to humiliate and completely hound down his political enemy, then I'm sorry for this country. Forget about anybody jumping down or not, if you are driving me to place where I am going to be given HIV injection, I will jump through anything. We do not know the circumstances he found himself at the time. Such decision will be taken if he realizes that he would be a dead man in a couple of minutes. Senate has nothing to do with your life or survival. What I'm saying is that the machinery that has been assembled and procedures that have been followed to humiliate and dehumanize Dino Melaye is commendable. If we do that for more vicious enemies of democracy, this will be a better place to live in. Why is it that we always use power of government to hit and demolish opposition of government who do in any way threatens the existence of government. Militias have killed thousands of people in Zamfara, Benue and Taraba states in the last two year and no record of one of them being apprehended. The police in this matter have overreacted and used excessive force which in itself is almost a crime. We need to hear from Dino Melaye to know his fears and why he jumped out of the vehicle. A man that jumped out of a moving vehicle has a chance to die. He must have weighed the options either to die sitting in the vehicle or to live if he does not die after jumping down. The man had simply chosen a fairer option out of the two.
How will you rate the administration of President Buhari
The fact that the administration has not done well is obvious and I am not going to do an overkill. President Buhari came in on a very high ethical standard that he is a man of integrity, he will fight corruption, quench the insurrection in the North East and provide good governance. But the government has failed on all the four pedestals. But I found it a bit difficult to judge him because of my background as a trained medical doctor. I have suffered life threatening illness myself and under the condition, nothing else mattered to me except my survival. When a man that is so sick like Buhari doesn't do well, I find it extremely difficult to condemn him because of my background as a medical doctor. Perhaps if things were the other way round, he may have performed better. If he spent 150 days out 360 days in the hospital, that is really serious. I will not stand here and condemn a man that went through life threatening illness. We all saw Buhari practically dying and God resuscitated him. On the platform which he came in, he has failed woefully. But my mind is telling me that the man is not that bad and that the problem he has is his ill health. That is why I wrote an article and advised the man being a great man that God has been very kind to not to contest for second term. All his popularity, reputation and cult like followerhip will pale to nonesense if he recontest and his health cannot carry him. I wish him well and I pray that God will give him strength in this remaining period of his tenure to finish well and end well. But he will be stretching his luck too far if he attempts to go beyond that. Age and good health are not on his side. A man should not volunteer to rule or be forced on a nation at the lowest point of his existence in which Buhari is now. I can say this authoritatively because I am a doctor. Buhari should aspire to end as a father figure in this country and I will personally applaud him for that. I will even canvass that everyone should put partisanship aside and support him to finish well and give him a grand exit. We do not have any father figure in this country. All our leaders have either destroyed themselves or we destroyed them. Let us preserve Buhari as historic legacy. But Buhari's ambition to go for a second term and continue in office will be a threat to the existential wellbeing of Nigerians and corporate existence of the country.
There has been clamour for not too young to rule, do you foresee a young man with integrity taking over from Buhari
For any youth taking over in 2019 is far fetched and highly unlikely because our youths are just getting involved in national affairs. Look at Sowore, Fela Durotoye and so many of them that are just coming up. But we must realize that this country is so big and complicated that we need the exuberance of the youths and experience of the old. It is the combination of these two that will augur well for this country. But we must encourage the youths. The only reason why I am in Accord Party is to make it a platform for young people to come and become what they want to be. The party is practically new and the positions are not stratified. Our major job now is not to contest or run for any office. But we want to hold the ladder so that young people can steadily climb. I have got nine children and it will be in my interest that they will find a decent country to live. This can only happen if those of us with knowledge and experience will allow the younger generation to climb on our back and hold the ladder for the youth to climb to the top while we support them.
What should Nigerians expect from the Nigeria Coalition Movement
This coalition is not against Buhari. If it against the president I'm not interested. This coalition is to promote democracy, good governance and to bring competence and fear of God into administration. It is also to create a space for the younger generation to come up. The coalition is not against APC. Rather it is to broaden the base of participation to allow majority of Nigerians to come in and take part in the destiny of their nation. Nigerians should expect from this coalition a very broad spectrum of political opinions and formations. We are going to bring together a majority of political conclaves in the country. Even though we recognize that the APC has not done well, the fact that Buhari is going to contest again; we fear that it may not auger well for the country. We are creating this coalition since we are relying on votes. We plan to bring more Nigerians together and allow them to participate in moulding the destiny of their nation. To allow APC to win means Buhari will continue and that's not in the interest of Nigeria.