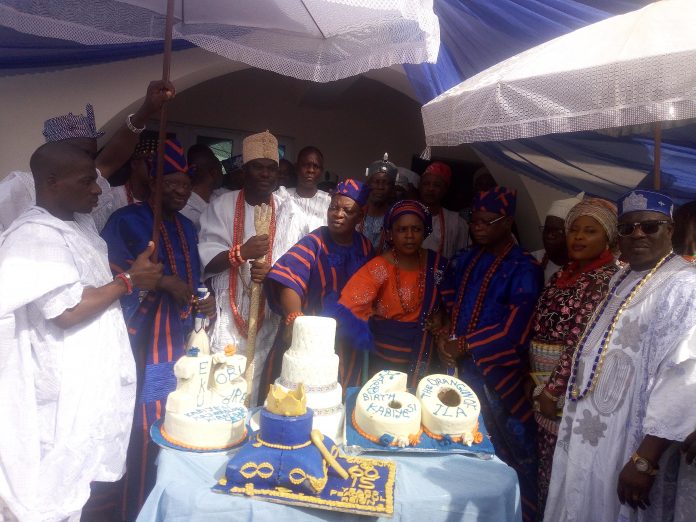 Ooni being received by Alara, Ajero and Orangun

Traditional rulers, custodians of culture and dignitaries from all walks of life storms the ancient city of Ila Orangun in the state of Osun to celebrates with Orangun of Ila   Oba  Abdulwahab Kayode Oyedotun Bibire 1  on his 60th Birthday and 15 coronation anniversary.
Ila Orangun is one of the towns in Yorubaland with historical significance and direct relationship with  Oduduwa  who is believed to be the progenitor of Yoruba race.
Although there were various tradition of Origin about the history  of Ila Orangun, but the most acceptable ones states that Orangun of Ila is the eldest Son of Oduduwa and he is in custody of some of his valuables including the original crown till date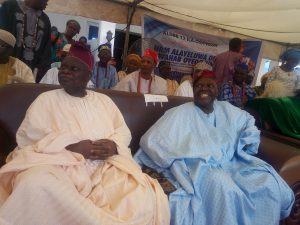 The twin event was graced by scores of traditional rulers including Arole Oduduwa, Oba Adeyeye Eniitan Ogunwusi, Ojaja 11, the Ooni of Ife , Alara of Aramoko, His Royal Majesty, Oba Adegoke Adeyemi  Owa of Ijero Owa Ajero of Ijero Kingdom, Oba Joseph Adebayo
Others includes Olofa of Ofa, Orangun of Oke Ila, Akirun of Ikiru, Olojudo of Ido Osun, Onirun of Oke Irun oloyan of Oyan, Arigbamu of Agbamu, Orangun of Ika
In  the entertainment world, Oloye Jimoh Aliu, Yinka Quadri,  Murphy Ray, Iyabo Ojo,  Olaiya Igwe and many reigning and upcoming thespians were also at the event
Ogbani Rauf Aregbesola was represented by his Chief of Staff and a gubernatorial aspirant in the state, Chief Gboyega Oyetola,  while other prominent politicians such as , Chief Bisi Akande Senator Adeyeye, Senator Iyiola Omisore, Senator  Nurudeen Adeleke, and some  federal and state lawmakers, commissioners and political office holders in the state of Osun were present
The event also features a book launch titled "The Living Spring: A Biography of his Royal Majesty, Oba Wahab Kayode Oyesotun Bibire 1(the Orangun of Ila) by  Mr.Olusola Ajala  and investiture of  Chief Bimbo Ajilesoro an, international businessman as the Tayese of Ila Orun.
Both the Kabiesi and Olori Esther Oyedotun in their separate speech thank God for his mercies and protection and appreciate the people of Ila Orangun, and everybody around them for their support on the throne
" I wont say the past 15 years have not been without challenges, but God has been faithful, he has never allowed me to be consumed by the situation, rather came out stronger and better and to him I returned all glory and honour "
Oba Oyedoyun however called on the indigenes of Ila at home and diaspora not to relent in their efforts to develop their town, This tow belong to all of us, there is no place like home, we need to work and walk together to move our town forward and put in place a legacy that will outlive us'.
Duchess Funmi Rotiba, the Erelu Asa of Yorubaland  while speaking with our reporter described the monarc as a peace loving and accommodating king, " Orangun of Ila is an embodiment of humility and patient. Kaybies is accommodating and friendly".