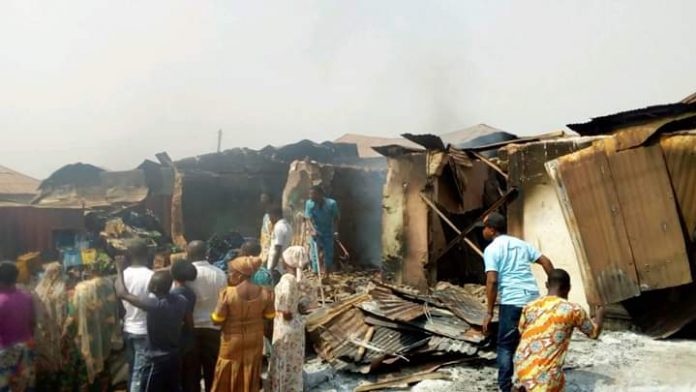 The entire city of Ibadan yesterday, Sunday the 6th day of January 2019, woke up to the disturbing news of wanton destruction of lives and properties around Idi-Arere in the heart of the city (whats the cause?). Some of us who remain passionate and aware of recent happenings in the capital of Oyo state may not find this too surprising as events of gang clashes have been going on for several months unabated, unperturbed. Recent in the list was the attack at Ile-Tuntun/Oke-Oluokun in Ibadan SouthEast LGA over pasting of campaign posters of a certain gubernatorial candidate in which lives were reportedly lost. It would also be recalled that prior to the conduct of party primaries, a particular gubernatorial aspiratant was attacked with his branded campaign vehicles vandalized by miscreants sequel to disagreement over sharing formula of money he doled out to political thugs on his campaign train.
In recent times, reports of security threat in several locations within Ibadan have been unprecedented, several times the entire Agbeni, Agbaje, Ogunpa, Gege, Abebi, Born- photo and other adjourning markets in the environ have been shut for security reasons with no one in government neither come to the rescue nor show concern, but would rather come on mass and social media to brag of adequate security that we all know is a mirage. Out of concern for Ibadan City, I've had to engage various security apparatus in a personal survey to elucidate factors that constitute security threat to Ibadanland and my findings are here stated:
1) The outrageous rate of unemployment coupled with economic hardship in the land is a significant factor. A man who used to be involved in casual jobs as labourers at construction sites are mostly idle as little or no job opportunities are available for them in recent time, and like the saying an idle hand is a devil's workshop.
2) The extent at which hard drugs are freely circulated without checks have been unprecedented in recent times so much so that some drug joints are becoming more popular than canteens especially in the core locations within Ibadan metropolis.
3) The rate at which politicians, even those that are in charge of security in the state romance and engage popularly known Gangsters who in turn engage these street guys to constitute threat to perceived political opponents resulting in using them as "Billboards and Poster" tearing arm" of campaign their team.
4) The ease with which culprits of civil disturbance are released from security outfits via contact by politicians and "influential men" in the city has reinforced the confidence of these miscreants.
5) Poorly equipped and badly maintained security architecture of the state, as very few police station can afford a vehicle, the more reason you see policemen hiring a Micra cab for patrol.
6) Gangsterism is fast becoming a lucrative profession as Gangsters receive patronage from politicians thereby encouraging miscreants to claim territories within Ibadan metropolis
In my view, the best approach to security the world over should be preventive. Every sane security architecture should first think of outright prevention of security breach, but a situation where CCTV are installed only to capture the footage of how crimes are committed and lives and properties destroyed without paying attention to issues that sum up to security threat and nip them in the bud explains the gap between academic brilliance and intellectual prowess.
For instance, how sane and economically reasonable is a CCTV camera installed at Bere Junction that cannot capture crimes committed at Egbinola Junction Oranyan, Agbede Adodo, Labiran , Oke-Aremo or Oopoyeosa all these locations less than 500 metres circumference to the CCTV.
Also, of what sanity is the CCTV camera installed at Challenge Roundabout that cannot capture crimes committed at Bolumole, Idi-Odo (Felele Roundabout), Falana Bus stop along Ayefele or Nigerwest along Orita. More reasonable, economically wise and socially beneficial is any proactive effort to outrightly avert or at least nip a crime to be committed in the bud rather than being boastful of installation of CCTV camera that only captures how lives and properties are destroyed.
Security just like politics is local, every neighborhood knows who and what constitute security threat to their immediate environment the reason one must commend the Palace of Olubadan for summoning an emergency meeting of Mogajis and Baales in the areas where there have been security issues to take holistic assessment of security challenge in Ibadan land with the view of giving a marching order to community and family heads to ensure security of lives and properties within their domains, this I find more reasonable and feasible than installation of CCTV camera that's a conduit pipe through which public fund is siphoned to the cronies who supported the campaign of politicians with posters and billboards.
However, to avert future occurrence of dastardly acts in the city, the first measure that needs be put in place, is creation of social welfare whereby idle men are gainfully engaged and those with extreme cases rehabilitated and reintegrated into the society. The NDLEA would have to step up their games in some location within the interiors of Ibadan to check the trend of drug abuse. Also, an alternative source of power like solar should be used to lighten the moribund street lights that were installed with millions of naira, instead of enriching and dolling out frivolous contracts to unqualified acquaintances and Cronies of politicians to supply diesel to power the streetlights which have gone into extinction to caution the activities of these criminals at nights.