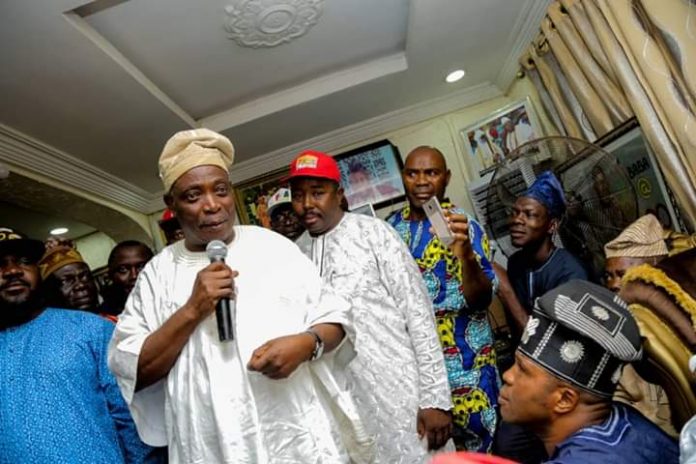 The former governor of Oyo State Sen. Rasheed Ladoja has said that his victory at the Federal High Court in Lagos is a plus to the Zenith Labour Party in the State.
The former governor said it would also added to his credibility as Olubadan.
Speaking with journalists at his Bodija resident, the former governor said "Without any iota  doubt my victory at the Federal High Court Lagos on Monday as my case against the anti graft agency EFCC that filed a case of fraud N4. 7 by Justice Mohammed Idris who discharged  me and my finance commissioner Waheed Akanbi acquitted has added a great deal to our party Zenith Labour Party in the States.
"The people of Oyo State believes in me and for the doubting Thomas within them,  I think this victory means a lot for my party, positively this case has brought a great deal for the Zenith Party in the State."
"I am grateful to God that at least the good people of Oyo State and Nigerians as a whole will now know that I Sen. Rasheed Oladoja did not stole or divert any money belonging to Oyo State government into my personal account or for my personal use.
"My fear was that, even when you know that you are right, in Nigeria you will still be afraid , there are lot of things in our judiciary system that will make someone to fear when you have a serious case like this either you are on the right side or not. The question is not about who is guilty or not but with the thinking that will the judge not be influenced."
"In Nigeria judiciary you know we have the good heads and bad heads, and I think in this case I was fortunate have good one." Ladoja said.
Speaking on how the judgement has affected his chance of becoming Olubadan in the nearest future, the Ibadan high chief said, today I together with my supporters started what I will call a victory roadshow from Lagos Ibadan express way toll gate to the Palace of Olubadan, where the King the Olubadan of Ibadanland Oba Saliu Adetunji congratulate me, prayed for me and gave me blessing and also made it known that anyone who have been jailed will not be privileged to the throne of Olubadan.
"So you can see if the case has gone in other way round, then that means that my chance of becoming Olubadan will have eluded me, but I thank God today that I as Osi Olubadan of Ibadanland and as a former governor of this State still have intact access of becoming Olubadan of Ibadanland if God wishes and Baba prayed for me that Rasheed Ladoja as you are now a saint and an High Chief of Ibadaland you did not disappoint me and entire Ibadaland, I pray that one day you will be in this my position and I said amen to the prayer. " Ladoja said.