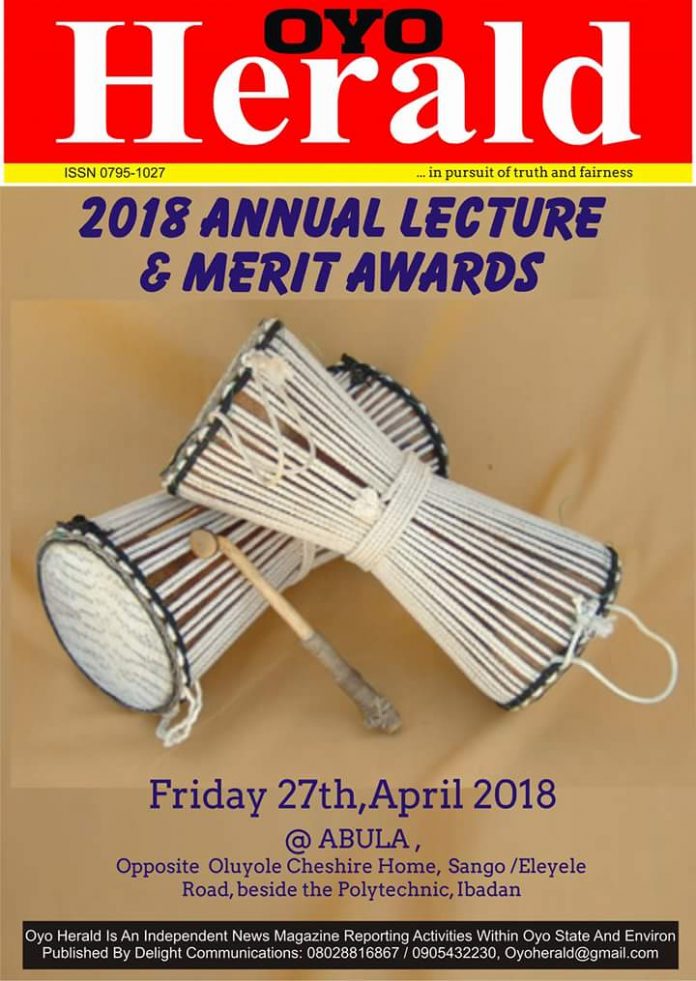 Ibadan, the Oyo state capital will be hosting dignitaries, including top political office holders and captains of industry as 2018 edition of the annual Oyo Herald Public Lecture & Merit Awards holds on Friday, April 27.
Dr Gbade Ojo, the Chief of Staff to the Executive Governor of Oyo state, Governor Abiola Ajimobi will deliver the lecture tiled "Sustaining Democracy; Roles of the Media" at the event.
The Senator representing Oyo North Senatorial District, Senator Fatai Buhari is also to be honoured with the Oyo Herald Man of The Year 2017 at the event, according to a press release signed by Bola Olalere, the Managing Editor of the Magazine.
The statement said "Senator Buhari's extraordinary representation and his empowerment activities in his senatorial district, among other things made him to stand out among many contenders for the award".
Olalere said that the award will be presented to the Senator at the annual Oyo Herald Public Lecture which will hold at the newly opened ABULA Event centre in Ibadan on the 27th of April 2018 from 5 pm.
"A year preceding an election year is always crucial in the life of any nation and the sustainability of it democracy; hence all hands must be on deck to make sure that everybody work towards sustaining the democratic process.
'The media as an important estate of the realm need to identify and play its roles well in sustaining the process and there is no other person that can do justice to this topic other than Dr. Gbade Ojo, an erudite scholar and a politician", the statement reads.
Other awardees to be honoured at the event include the Speaker, Oyo State House of Assembly,Rt. Hon Moses Adeyemo, Erelu Funmi Rotiba, Oyo State Commissioner of Police, Mr Odude, Dr Nureni Adeniran, Mayor Isaac Brown of Fresh FM, Hon. Wumi Oladeji, Hon Bosun Oladele, Hon Dapo Lam Adesina, Hon Ajiboye Omodewu, Prof. Olowofela, Hon Niyi Adeagbo, Abula Event Centre and Cool Global Interlinks Limited.