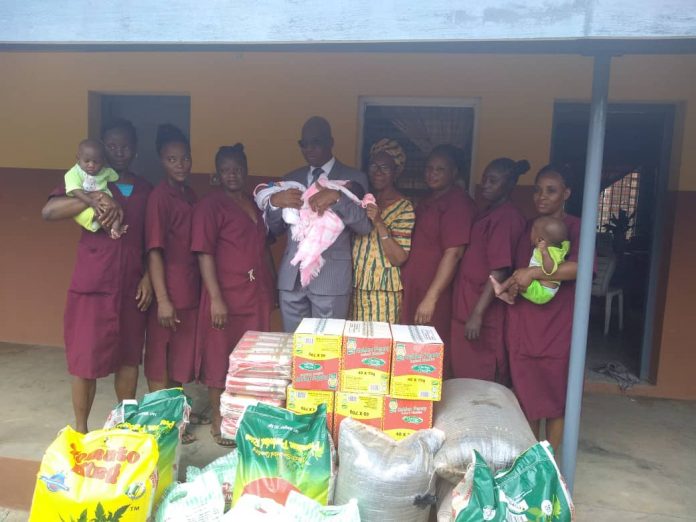 Chris Ayantoye
In what could be described as unusual way of appreciating God for the gift of life, the Executive Assistant to Oyo State Governor on Disability Matters, Barrister Ayodele Adekanmbi, has yet proven to be a worthy example by how he chose to mark his another birthday today which is not an act that is too common with the people in positions of honour.
Apart from making it a covenant to God that this year's celebration would mainly be to reach out to as many as termed needy in the society, Barrister Adekanmbi to this course also sowed his first salary to receive in office as Executive Assistant to the Governor, purchasing loads of food items and personally saw to distributing them from one orphanage to the other all round the capital city of Oyo State, Ibadan.
Notable among the places he visited today was Jesus Children Missions home situated at Ladipo Tejumola street, Bodija area in Ibadan where he addressed numbers of motherless children most of whom were still in their teen ages. Barrister Adekanmbi encouraged them to not give up on themselves but keep believing God for the best while they take with utmost seriousness whatever they're assigned to do.
In furthering his birthday visits to various homes, Barrister Adekanmbi took time to also reach out to Sola Olagunju home where he did not only identify with children living with disabilities but equally made a handful donation of food items as in the first place and also gave his word to yet come back in no distant time.
Before returning back to office for the official business of the day, Barrister Adekanmbi made a brief stop at Omolewa Children's home, Ibadan, where he was not only received with funfair by members of the staff but a session of prayer was also held in honour of his visit and for the new added age.
After donating the food items, Barrister Adekanmbi was led into the children's ward where he played with the kids and promised to send a particular three day old set of twins some food items through his wife. In that same home, a young girl whose father had reportedly abandoned was introduced to him and the need for urgent medical support to combat her cerebral challenges. Barrister Adekanmbi in this regard gave his assurance to take necessary measures officially citing that part of the vision of Engineer Seyi Makinde led administration is to make life better for everyone irrespective of his or her status.