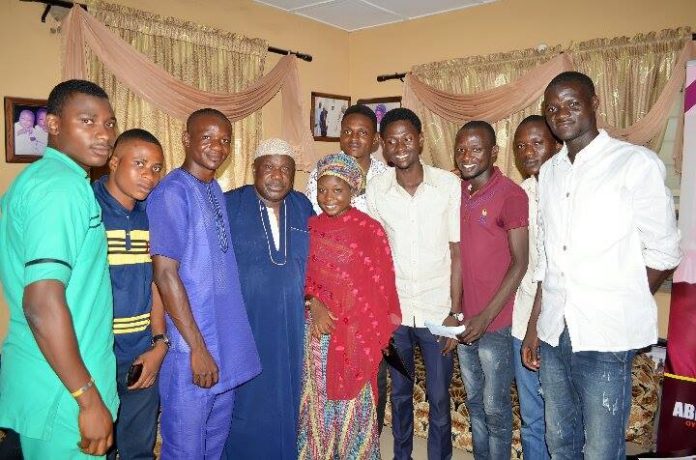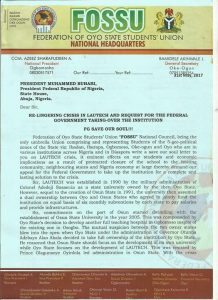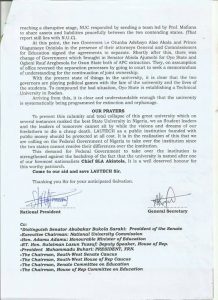 Federation of Oyo State Student Union FOSSU(National) has called on President Muhamadu Buhari led Federal Government to take over the ownership and control of Ladoke Akintola University ,LAUTECH Ogbomoso
The student body expresses concerns over the crisis rocking the joint owned institution by Oyo and Osun and summit that the only solution is for the Federal Government to take over
In pressing their demands, the executives of FOSSU led by Comrade AbdulAzees  Sharafudeen Akano on Saturday presented copy of the letter written to the Federal Government to Senator Abdulfataii Buhari, Senator representing Oyo North Senatorial districts at the upper chamber of the National Assembly  to present it at the plenary.
In the letter, the students maintained that ' With  the present situation of things at the University, it Is clear that the two governors are playing political game with the fate of the University and the lives of the students".
To prevent this calamity and total collapse of this great University which on several instances ranked the best  state University in Nigeria, we as student leaders and Leaders of tomorrow cannot sit by while the vision and dreams of our forefather to die a cheap death, LAUTECH as a public institution, funded with public money should be protected at all cost, it is in the realization of this that we are calling on the Federal Government of Nigeria to take over the institution since the two states cannot resolve their differences over the institution"
"This  demand for Federal Government to take over the institution is strengthened against the backdrop of the fact that the University is named after one of our foremost Democrat Nationalist Late SLA Akintola, It is a well deserved honour for this worthy patriarch"
While commending Senator Abdulfatai Buhari for his immense contribution to the development of his constituency and outstanding performance at the legislative chamber the Students noted that the bills for the Establishment of Federal University of Agriculture and Technology and other efforts to attract Federal government presence in Oyo North deserve commendations.
" We have been following your activities at the Chamber and in the state and there is no doubting the fact that you have done excellently well, we are proud of you" said the president.
The students also noted that the Senator's simplicity and approach to life is another great virtue that stands him out among his peers urging him to continue as a good leader and role model.
They however solicit for supports from the Senator in developmental programs for the youths and the students in the state. In his response, Senator Buhari, urge them to conscious of their activities as students and refrain from anything that may affect their future.
In his response, Senator Buhari who is also the chairman Senate Committee on ICT and Cybercrime commended the student for their leadership sagacity and genuine intention to save LAUTECH and assured them of cooperation.