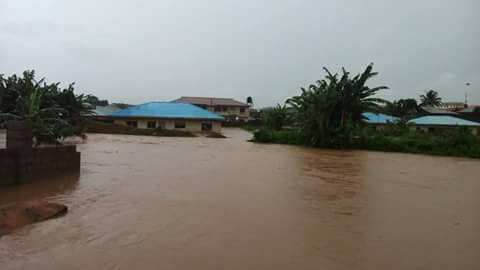 Over 300 houses were affected by the early morning rain which wreak havoc in Ibadan on Tuesday
Mr. Yakubu Sulaimon National Emergency Management Agency, led by the Zonal Coordinator (South-West) disclose this during a visit to the governor of Oyo state in Ibadan on wednessday
The NEMA zonal coordinator said that the agency decided to visit the state capital to gather firsthand information and see for themselves the havoc wrecked by Tuesday's flooding in parts of the city.
Going by the agency's assessment, Yakubu said that more than 300 houses were affected during the incident, stressing that the agency had immediately swung into action by providing relief materials to the affected people through the State Emergency Management Agency (OYSEMA).
He said his assessments had revealed loss of livelihood of many people, as properties worth millions of naira were lost to the flooding.
Yakubu towed the same line with the governor by advising that buildings on floodplains should be vacated and demolished. According to him, many house owners did not observe the necessary regulations in putting up their structures.
The NEMA boss said, "We have seen means of livelihood lost. Properties worth millions of naira have been lost to the flood and we have made note of all buildings involved and the affected families. Soon, NEMA will in his usual way come to their aids through the state government.
"People should stop building on floodplains and they should endeavour to clear their drainages. Most of these buildings did not observe the normal 30meters setback regulation; town planning laws are not complied with. These are the consequences."
The governor who was represented by his deputy, Chief Moses Adeyemo,  used the opportunity to admonish residents to desist from bad habits that have been found to cause flooding, noting that the soul of every citizen and their property were precious and would be protected by the government.
Apart from the ongoing dredging of river channels, he said that that other preventive measures would be taken to prevent the ugly experience of the past when flooding caused monumental loss of lives and property in Ibadan.
Ajimobi said, "When the government says don't build on waterways or river course, some people always say that the government is wicked. This (flooding) is the result of disobedience to such directive.
"Henceforth, we are not going to condone such transgression. All structures on waterways will have to give way. We are not going to open our eyes and allow our people to be victims of any disaster.