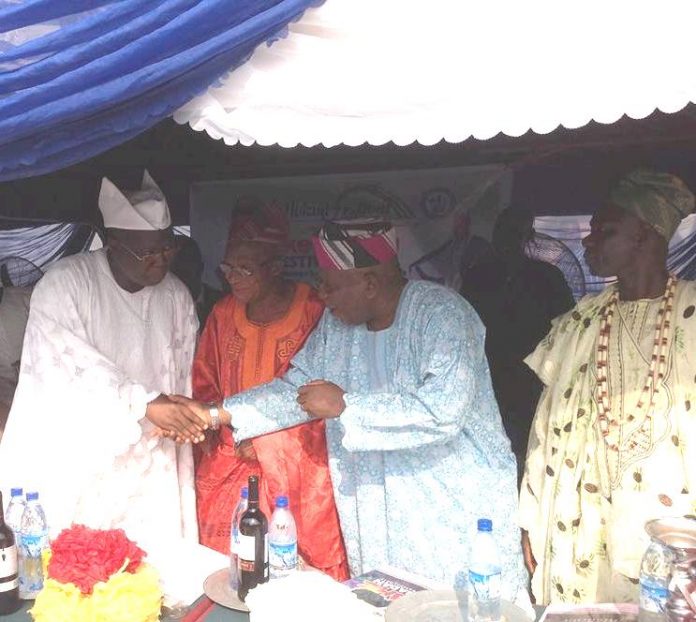 The National Coordinator of Oodua People's Congress OPC ,Otunba Gani Adams has urged  the Federal government of Nigeria to include the annual celebration of Oke'badan festival in the tourism calendar  of the country
Otunba Adams while speaking at the annual Oke'badan festival organized by Olokun Foundation held at cultural centre Mokola Ibadan said the festival is a festival that has to be adopted by government and not left for the traditional institutions to celebrate alone.
"Oke'badan must be uplifted. Oke'badan must rise. Oke'badan must be elevated. Oke'badan must occupy a prominent space in global recognition. I encourage the Federal government to adopt this festival, polish it and give it the needed sweeteners in its scheme of boosting cultural tourism in Nigeria".
Otunba Adams also said "the celebration of Oke'badan festival, from time immemorial, as empirically proved, accounted for the generational achievements and progress being witnessed in the city .
"Any town that remains faithful and steadfast in the cultural festivals to remember the past, pray for the wellbeing her people and celebrating the feats of past heroes, will always witness unprecedented progress and development"
This festival is one of the major keys that unlocks the doors of fortunes and clear the way for accelerated development in Ibadan land.
Otunba Adams lauds the executive governor of Oyo state Senator Abiola Ajimobi  ensuring that the OPC added  value to the  2017 edition of the festival through his timely intervention
" Some dissident had misinformed the Central Council of Ibadan Indigenes CCII and the security agency about the  involvement of the OPC in the CCII but with the governor's intervention we were given approval "
In his lecture, Profesor Ayodeji  Agbonjimi  said Ibadan should rise up to defend to the integrity of Yorubaland as it use to do during the pre-colonial era.
Also the state coordinator of OPC Chief Rotimi Olumo said celebrating the festival is one of the way through which OPC associate and showcase tradition and cultural heritage of Yorubaland particularly in Ibadan
He however urges members of the association not to listen to dissenting voice of the enemy of progress but remain focus and committed to the program of Otuba Gani Adams led OPC.
The event also features presentation of Awards to Otunba Adams and Mr Rotimi Oluomo as well a stage play by OPC drama group.
Dignitaries at the event include, Chief Lowo  Obisesan Gbonka Balogun of Ibadan, Oba Sikiru Adeniyi ,Onimia of Imia,  Chief  Ayo Adewuyi ,Jagun of Oyo among others.