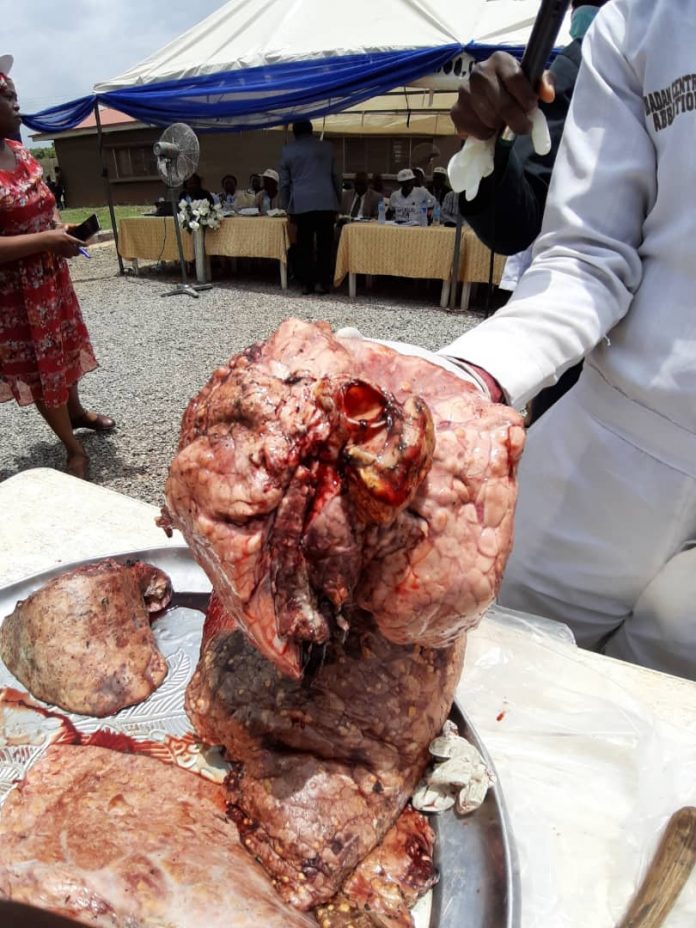 Nigerians have been cautioned against consumption of infected animal parts especially the lungs of cow to prevent tuberculosis
Project officer Central Abattoir ibadan Dr Akanbi Ibikunle gave this advise at the opening of human clinic of the central abattoir, Amosun village and commemoration of world tuberculosis day.
Dr Ibikunle said the disease could be contracted from animal to man through consumption of cow liver with crunchy substances called Fuku Elegusi in yoruba language.
Dr ibikunle noted that the infected lungs which the society regard as a delicacy would automatically infect the consumer.
"Animal parts especially the lungs that has substances like stones should not be consumed at all " he insisted.
Dr ibikunle also advised the public to always allow professionals to screen animals slaughtered outside abattoirs to prevent spread of TB.
In an address,chairman Central Abattoir Engineer Abiodun Ahmodu hinted that the clinic was provided to improve general health safety of citizens of the state.
Also speaking,Oyo commissioner for Agriculture, Barrister Oyewole Oyewunmi disclosed that oyo state government was committed to ensuring that hygienic meat is being consumed by the people.
Oyewunmi added that the clinic was put in place to examine butchers to prevent transmission of diseases from animal to human beings