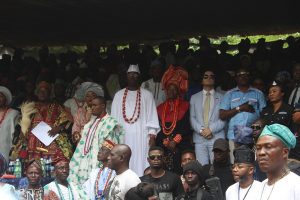 The momentous ecstasy was very high at the sacred grove in Osogbo, Osun state capital on Friday during the 2019 edition of Osun Osogbo celebration as a mermaid simply identify as Iko appeared briefly in the water.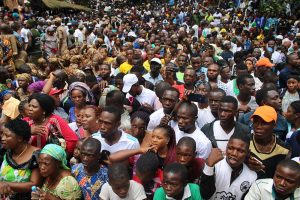 The appearance of the mermaid was described by the Ataoja of Osogbo, Oba Jimoh Oyetunji Laaroye III as a sign of positive development as it last appeared seven years ago. He when such a thing happens, it signifies prayers answered.
The monarch while speaking at the grand finale of the festival held at Osun sacred groove said further that "I am vindicated, Yemojoa sent the Iko to proof a point, especially to those with a negative impression about the event, they can now see that the goddess of Osun river is with us and will continue to bless our people."
Many of the devotee who saw the Iko went into trance while some used the occasion to pray and ask for blessings.
Culturally inclined personalities, including the Aare Ona Kakanfo of Yorubaland Iba Gani Adams, Chief Mrs Nike Okundaiye, proprietor Nike Art Gallery, Oloye Jimoh Aliu, Erelu Funmi Rotiba, Erelu Asa of Nigeria and others joined the Ataoja of Osogbo to celebrate the traditional event.
Over 100 foreign tourists from Brazil, Austria and another country including Brazilian embassy consular all dressed in Ankara also fabrics also graced the occasion.
Osun state, Governor Gboyega Oyetola, in his remark promised that his administration will support the development and promotion of Osun Osogbo festival to enhance its tourism potentials and sustainability.
The said he was honoured to attend the festival for the first time, saying his administration would continue to support the festival for it's sustainability and growth.
Represented by the Supervisor of the Ministry of Culture and Tourism, Dr Babawale Adebisi, he said the festival was important to his government and his administration intends to transform the annual event to a foreign exchange earner for the state.He stated that the state was equally seeking partnership with the Federal Government to optimally tap into the tourism benefits the festival provides.
"The Osun-Osogbo festival is important to the government and people of Osun as it is a common cultural heritage and our window and voice to the world. We are aware of the power of tourism to market our culture to the world, foster cultural communication and harmony and engender national and international peace and cooperation