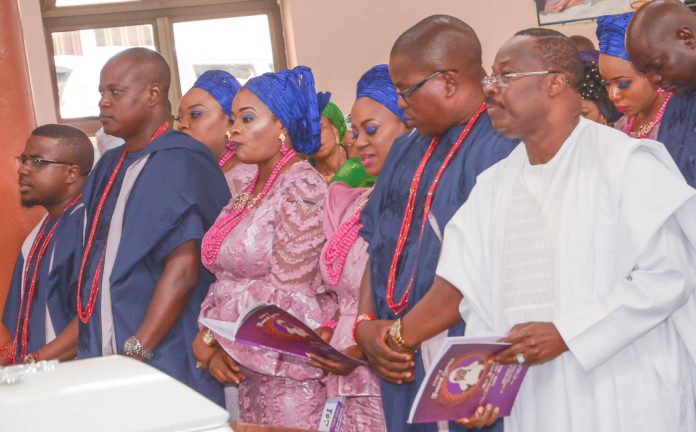 Eminent lawyers yesterday converged on the Ring Road High Court, Ibadan, Oyo State capital, showering encomiums on the late jurist, retired Justice Pius Olayiwola Aderemi of the Supreme Court, who passed on at 78 years old on Monday, June 18, 2018, in Ibadan.
The quintessential judex who was a Judge of the Oyo State High Court before he later ascended to the Supreme Court where he retired in 2009 after 23 years of meritorious service, was paid glowing tributes as part of farewell special session organised for him by the Oyo State judiciary presided over by the Chief Judge, Munta Abimbola.
Jurists that graced the occasion which cut across the three tiers of the judiciary: including High Court, Appeal Court and the Supreme Court, were: Chief Judges (serving and retired), Judges, Senior Advocates of Nigeria, Attorneys-General (ex and incumbent), Nigerian Bar Association (NBA) Chairmen, Registrars of the Supreme Court. The family members of the late jurist including the seven children led by Olakunle Aderemi were on ground to savour the gladdening encomiums being poured on their late father.
In his address, the Chief Judge of Oyo State, who described late Aderemi as his 'father', said that Oyo State Judiciary has lost "a compass, and a great motivator, a father at law and irreplaceable quintessential jurists whose contribution to legal theory, practice and principles shall find no match". He added that "To me, I have lost a mentor, a guardian, an adopted father-in-law and most of all, a great inspirer and my beacon of steps in life in the legal practice.
"He was a man of honour, dignified in expressing opinions; he refrained from drawing conclusions or comments that were adverse on Counsel. His language was sober and temperate, not satirical. As Judges ought to be, he was more witty, more reverent than plausible, more advised than confidant. He was integrity personified. My Lord was a living oracle of law", the CJ said to the admiration of all.
Speaking on behalf of the Senior Advocates of Nigeria present, Prince Lateef Fagbemi described the late jurist as 'pious 'Pius "who was in locus parentis to me". To Fagbemi, late Aderemi was an example of upright Judge who throughout his practice on the Bench never compromised integrity and the ethics of the practice.
He used the forum to advocate for better welfare of judicial and court officials, as well as equipping the court rooms with modern telecommunication equipment to make the quick dispensation of justice easier for the betterment of the society at large. He particularly reminded the Chief Judge of the need to have efficient Research Assistants " with adequate training and remuneration to assist our Judges and advance the course of justice dispensation".
The Attorney General and Commissioner for Justice, Mr Oluseun Abimbola, who represented the State Government and Governor Abiola Ajimobi, described Aderemi as "a no nonsense Judge in the diligence aspect of it. He would not tolerate indolence, sharp practices of any sort. He would always enforce adherence to dress code, though in a very mild and fatherly manner. He was professional, tact, elegant in practice".
The AG used the occasion to stress that Governor Ajimobi has a zero tolerance for land grabbing or illegal appropriation of people's property, noting that "anybody, even lawyers who engage in forced take-over of people's property is open to prosecution as Oyo State has no tolerance at all for the menace of "Omo Onile" practice", Abimbola said.
Chairman of the Ibadan branch of NBA, Dr. John Akintayo, who is also a senior lecturer in the Faculty of Law,  University of Ibadan, said "Justice Aderemi was a man of uncommon humility. He was humble in all his dealings even whilst relating with persons young enough to be his children. His Lordship was also respectful of elders at the Bar and on the Bench", while also commiserating with family for the irreparable loss.
Mrs Sunmbo Adetuyibi (nee Aderemi) and a Magistrate, in her response to the honour done their father on behalf of the family, thanked all for the befitting farewell session, adding that the entire family members were deeply appreciative.
The burial programs continue on Saturday with church service as st James Cathedral and entertainment of guest at Jogor Centre in Ibadan.