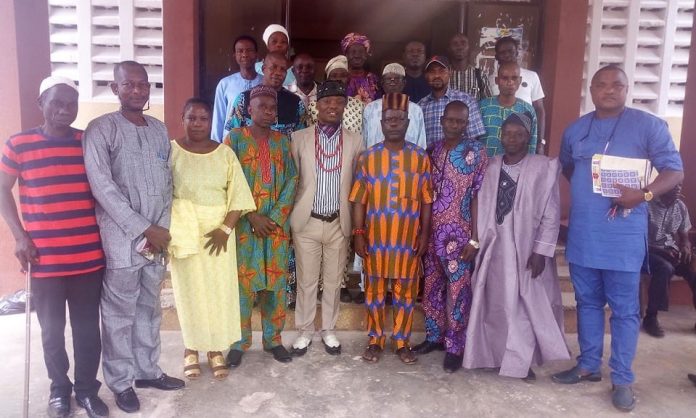 Members of Performing Musicians Association of Nigerian ,PMAN,  Ekiti State chapter has promised to wax a unity album to extol the virtues for Dr Kayode Fayemi,  the executive Governor of the state and expose the pristine culture of Ekiti State.
The state chairman,  Chief Adankara Olalere disclosed this when he led some members of the  Association on a courtesy  visit  to the state  Council for Arts and Culture, government secretariat  ,Ado Ekiti.
The Association also  expressed its resolve to collaborate with Ekiti state Council of Arts and Culture in its bid to promote culture and tradition.
Chief Adankanra said the association would soon commence  work on a record tagged " Voice of Ekiti" a collaborative music of all musicians in the state to add value to Ekiti and promote its cultural values.
He said that ,"  Ekiti musician are talented and we are  ready to use our talents in music to promote Dr Fayemi's agenda of value restoration, Cultural rejuvenation and moral reorientation"
In his remark, Ambassador Wale Ojo  Lanre said part of the council's mandate is to promote any cultural activities, acts or deeds  that will  add value to the state.
He pointed out  " Our collaboration  will  not only add value but to enhance your economic potential and staus ."
Director General Ojo – Lanre tasked Ekiti PMAN to steer clear of rhythms  that celebrate morality and sing songs which extol values , morality , hard work, honesty  and sincerity of purpose'
He also urge them to always involve  and trained  younger ones in the projecting the cultural heritage and value of Ekiti people.