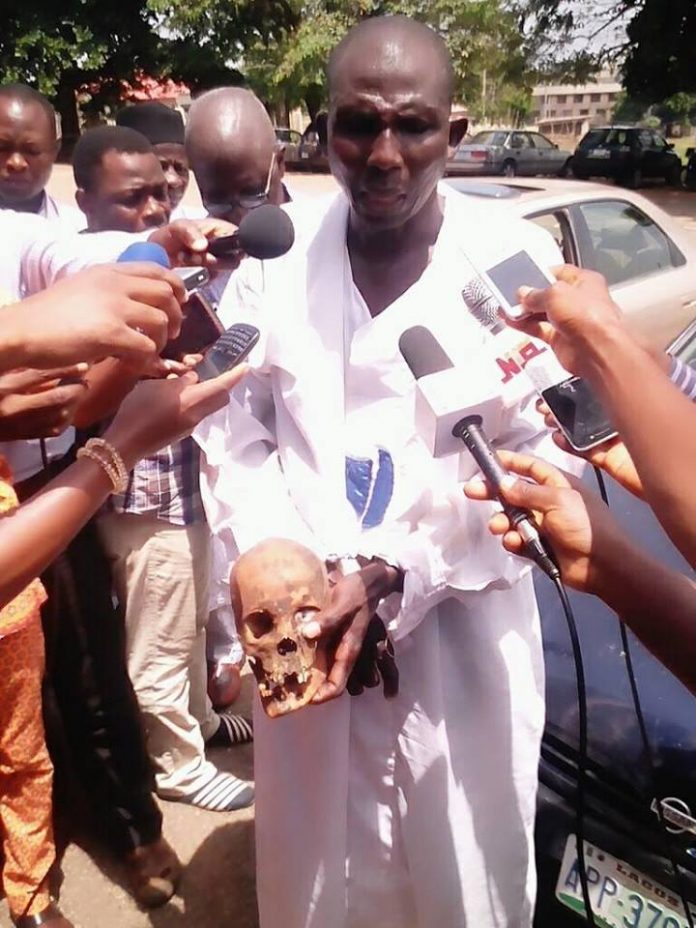 A pastor and founder of the Cherubim  & Seraphim  Idapomimo Zion Alagbado Lagos has been arrested with a human head by operatives of the federal highway patrol of the Oyo state police command during s routine stop and search,
The suspected ritualist "pastor" Alimi Isiah ages 55,who adorned himself with a white garment was arrested on Thursday  04/05/2017 on his way to another branch of the church at alimi via ijaye afijo local government Oyo state.
Oyo state police commissioner Abiodun Odude while briefing journalists  at the police headquarters Eleyele   on friday said "We will not relent in our effort to curb crime in the state and I warn all the criminal minded people in the state to desist from any form of crime or face the music he however promised that the Pastor Alimi will be charge to court for proper prosecution".
The suspect, told Journalists  that he got the human head during a demolition exercise in Alagbado, Lagos and  that he was taking the human head to the branch of the church at Imini to offer sacrifice in order to chase away thieves terrorising the area.