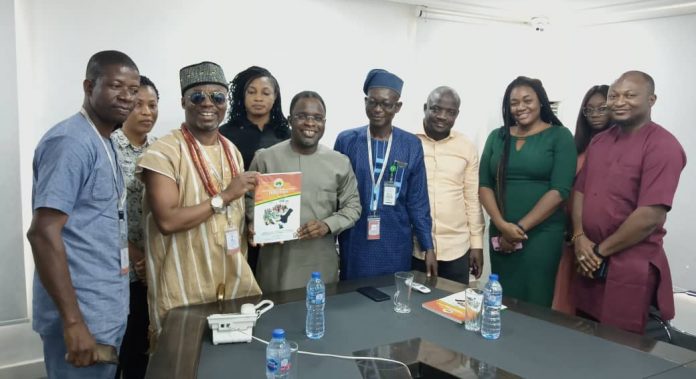 Africa's number one digital resource development company, Cornfield Group has signified interest at partnering with Ekiti State Council for Arts and Culture at building the traditional game of Ayo Arin into a global brand with virtual competence and application

The partnership engagement was announced yesterday in Lagos after a meeting between the management of Cornfield Conglomerates headed by Dr Tope Agbeyo and Ekiti State State Council for Arts and Culture team led by Ambassador Wale Ojo – Lanre at Omole Estate Phase 1, Ogba ' Lagos .

Ambassador Ojo – Lanre who was accompanied by Mr Abdul Babalola, Director Collaboration, Marketing and Corporate Affairs, Ekiti State Ministry of Arts, Culture and Tourism remarked that one of the cultural objectives of Governor Kayode Fayemi is the resuscitation and elevation of some of the traditional games which are critical and of immense benefits to the moulding of behavioural pattern, intellectual nourishment and managerial ethics.

He pointed out that Ayo Arin is one of the rare traditional games which task the precision calculating mental ability of the players and sharpens their intellectual ability to set and hit their targets.

Ambassador Ojo – Lanre lamented that it is sad that this particular game is on the point of extinction. Hence, the urgent need to resuscitate the game for transgenerational relevance.

He commended Dr. Agbeyo for his commitment to the development of arts, culture and entertainment industry and his passion at enhancing creativity in Nigeria

Ambassador Ojo – Lanre disclosed that the Ekiti State Council for Arts and Culture under the Ekiti State Ministry of Arts, Culture and Tourism recognised the stride and mission of Cornfield in the digital platform, hence the move to form a synergy with the company.

In his response, Dr. Agbeyo who commended the Governor of Ekiti State for being exceptionally proactive in his cultural – tourism vision said there is the urgent need to raise the status and value of traditional games and sports for international acceptability.

He affirmed the commitment of Cornfield Group to the branding and digital enhancement of Ayo Arin .

Dr. Agbeyo said all hands would be on deck at ensuring the virtual representation and branding of Ayo Arin for economic, social and generational benefits of Ekiti State and the global entertainment world.