Road users including commercial drivers and cyclists has said the repairs of road under the scheme tagged "Operation Zero Pothholes initiatives" by Governor Seyi Makinde is a big relief because it has eased the traffic congestion in some major roads in the ibadan state state capital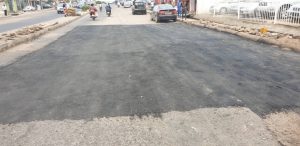 Governor Seyi Makinde led Executive council approved the Operation Zero Potholes Initiative in Oyo State on April 28
This initiative according to the (now former) Commissioner for Public Works, Infrastructure and Transport, Prof. Raphael Afonja was in line with the desire of the governor to "immediately fix all potholes in the state starting from Ibadan, the State capital."
Four months after, the Operation Zero Pothole initiative has eased the traffic in some major roads in the capital city.
The initiative has so far touched roads like the Nigeria breweries link road to Monatan; Immigration-Yidi; Oke- bola- oke ado – molete and Iwo road – agbala- ile marun expressways.
Some of the road users  in a chat with our reporters said that the operation has made it easier for residents and motorists to drive with ease since it commenced.
This newspaper also observed that the light traffic that slows down movement of travelers on the Lagos-Ibadan expressway when they reach the sawmill area approaching Iwo-road has been reduced because the slight traffic at Iwo-road axis is now lighter due to the absence of the potholes that slow down movement.
Similarly, commuters on the Oke-bola – Oke-Ado axis now find it relatively easier to navigate their way through to busier and economic hubs like Dugbe and Ogunpa market.