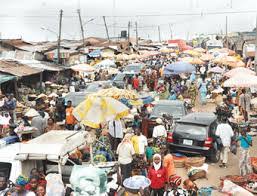 A 26 year – old fashion designer,  Sefiat Mutiat, who was among the victims of the last Thursday violence that erupted between police and butchers at the popular Bodija market, Ibadan, is to undergo surgeries in one of her breast, womb and spinal cords.
Some aggrieved butchers at the market  had engaged policemen in a violent clash over an order by the Oyo state government that all butchers in Ibadan, the state capital, should relocate to an abattoir at Amosun Village, near Akinyele.
About six persons were reportedly killed while several others were injured, during the clash in which the Bodija market police station was set ablaze and other properties vandalized.
Mutiat, who was in the market to deliver a cloth which she had sew for one of her customers was hit in the neck by bullet, a family source revealed on a programme monitored on an Ibadan – based private radio station at the weekend.
The family source, who is an elder sister to the victim, revealed that the fashion – designer was reported dead immediately she was hit by the bullet, but was later revived at a private hospital she was rushed to by sympathizers.
Mutiat' s sister revealed further that the mother of one was later referred to the University College Hospital (UCH), Ibadan, where she is currently lying critical at the Emergency Ward.
According to the family member, "It was at the UCH that doctors told us that the bullet had affected one of her breasts, her womb and spinal cords. They told us that if we want her to live s normal life again, she has to undergo surgeries".
Mutiat's sister, who said family had spent over N800,000 on medical expenses so far, maintained that there was no hope for the family to raise millions of naira needed for the surgeries.
 Meanwhile, 
Governor Abiola Ajimobi of Oyo state at the weekend ordered the immediate re-opening of the Bodija market, which was shut as a result of the violence.
Mr. Toye Arulogun, the state Commissioner for Information, Culture and Tourism, Mr. Toye Arulogun, who disclosed this, said adequate security measures have been put in place by the government to forestall any crisis and ensure that people go about their normal businesses.
Arulogun reiterated that the perpetrators of the Thursday crisis will be fished out and made to face the wrath of the law.