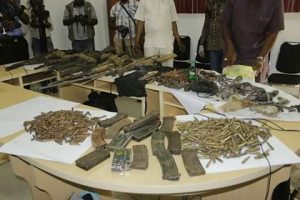 Police in Abuja on Friday paraded 19 suspects believe to be responsible for  killing of innocent citizens and destruction of properties  in Zaki Biarm, Benue state.
Unknown gun men killed many people at Zaki Biam in Benue State on 20th March 2017 and destroy  properties worth Millions of Naira,
While briefing journalists in Abuja, the Force Public Relation Office CPS Jimoh Moshood  said "The preliminary investigation and the operations embarked upon by the joint Police team revealed that one Terwase Akwaza aka Ghana, a gang leader of a vicious and notorious serial killer syndicate was responsible for the senseless killings of seventeen (17) innocent persons at Zaki Biam and for killing in cold blood of about fifty (50) people in other locations in Benue State"
" He is also responsible for so many kidnappings, armed robberies and cultists violence leading to loss of lives and properties in other parts of Benue State. Further investigation revealed that he is also responsible for killing of Mr. Deneen Igbana (late) the Special Adviser on Security to the Executive Governor of Benue State, Chief Samuel Ortom".
" In the dogged pursuit of the operations the Nineteen (19) suspects listed below were arrested for conspiracy and other various criminal roles they played in the killings of innocent persons and other violent crimes carried out by Terwase Akwaza aka Ghana in Benue State".
'During interrogation they admitted to be cohorts of the wanted suspect "Terwase Akwaza aka Ghana" and have facilitated the commission of some of the offences linked to him at different times in Benue and other neighbouring States. They will be charged to court on completion of investigation accordingly."
The suspects includes ;Tordue Kaaor 'M'   Hiikenter Orbunde 'M'
. Vincent Asemave 'M' David Terhembe 'M',  Dalhatu Abdullahi 'M' ,. Iortember Orkuma 'M',. Manasseh Ikyar 'M', Nengene Ikyar 'M',Joshua Ioraonya 'M', Joseph John 'M'. akowakwahve 'M' ,Terwase Sabastine 'M'
Sunday Utza 'M', Umsughaondo Gbaga 'M' , Swem Utiu 'M',Terwase John 'M', Mbadon Mbati 'F', Tame Buumbu 'F', Godwin Iorhundu 'M'
2 RECOVERY OF CACHE OF WEAPONS, WHICH INCLUDES LMG, SMG, HAND-GRENADES EXPLOSIVES AND ASSORTED ARMS AND AMMUNITION.
The below listed weapons and exhibits were discovered and recovered in a secret underground armory of Terwase Akwaza aka Ghana by the joint team of Police personnel, the Military and the DSS during joint assault on Ghana's hideout in the Forest in a location in Benue State. The principal suspect (Terwase Akwaza aka Ghana) and his gang abandoned their hideout and narrowly escaped further into the forest as a result of the superior firepower of the joint operation teams.
EXHIBITS RECOVERED:
i. Three (3) AK 47 Rifles
ii. Three (3) FN Rifles
iii. One (1) G3 Rifle
iv. One (1) LMG
v. One (1) SMG
vi. One (1) Double-Barrel Gun
vii. One (1) Mark 4 Rifle
viii. Four (4) Single-Barrel Guns
ix. Four (4) Locally-Made Revolver Pistols
x. Five (5) Locally-Made Revolver Pistols
xi. Thirty (36) Hand-Grenades
xii. Two (2) Short Gun Local
Magazines:
i. One hundred and forty one (141) Ak47 Magazines
ii. Twenty (20) FN Magazines
iii. Eighteen (18) 6x G3 Magazines
iv. Three (3) Mark 4 Magazines
v. One (1) Spear
Ammunition:
i. Five hundred and thirty six ( 536) rounds of 7.62 mm NATO
ii. Four hundred and sixty- six (466) rounds of 7.62 mm
iii. Four hundred and sixty four (464) rounds of Special
iv. Twenty nine (29) rounds of 9mm Ball
v. One hundred and nineteen (119) rounds of 5.56mm 118
vi. One (1) round of 12.7 mm
vii. Five hundred and thirty three (533) cartridges for Double-Barrel Guns
viii. Twelve (12) Canisters Teargas
ix. Fifty (50) rounds of Air-rifle ammunition
OTHER ITEMS:
i. Two (2) bottles of perfume
ii. One (1) Knife
iii. One (1) Plier
iv. One (1) SMG Magazine
v. Six (6) Beretta Magazine