Alhaji Abdulkadir Abdul‎salam has urge members of the public to disregard any transaction or relating with any person other person claiming to be the party's chairman as  he is  the National Chairman of the  Party
Abdul‎salam in a press statement signed and made available to journalists noted that Mr Mike Omotosho, a former gubernatorial candidate in Kwara state has been parading himself as the chairman of the party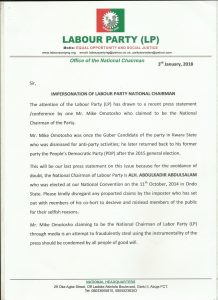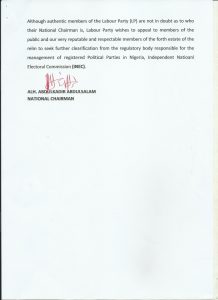 He said the Omotosho who is claiming the position had been dismissed from the party for anti-party activities after the 2015 general elections, adding that  that the accused had since returned to the Peoples Democratic Party (PDP), which he described as his political base.
While noting that the clarification is imperative so as to avoid misleading the public, the party recalled that its authentic national chairman, Alhaji Abdulkadir Abdulsalam was elected at the party's national convention which last held in Ondo state, October 11th, 2014.
It added that, although authentic members of the party are not in doubt as to who their National Chairman is, calling on the members of the public who may be in doubt on who the authentic national chairman is to seek correct information from Independent National Electoral Commission (INEC), the only regulatory body responsible for the management of registered political parties in the country.