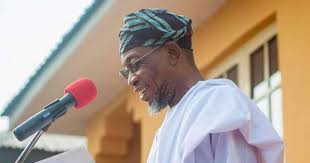 The Executive Governor of the State Of Osun,Ogbeni Rauf Aregbesola will this weekend officially receive the Western Nigeria Governor's Cup trophy.
This was disclosed to the media by the Executive Secretary Western Nigeria Football Forum, Otunba Akin Akinbobola who added that the trophy will tour other South West states.
The Western Nigeria Governor's Cup (WNGC) which is a baby of the Western Nigeria Football Forum (WNFF) under the Chairmanship of Barr. Seyi Akinwunmi the 1st Vice President of the Nigeria Football Federation (NFF) and the NFF coordinator of the South West region, is aimed at not only developing football in the region but also discovering and nurturing good footballers in the region to stardom.
According to him, the WNFF discovered that in order to bring back the glory days when the region contributed immensely to the lofty heights reached by our national teams, there was a need to specifically develop young players from the region, hence the decision to come up with this idea which incidentally will also help keep our youths busy, foster integration and create a football economy in the region.
Akinbobola further informed that all necessary arrangements have been put in place for the Governor to receive the trophy this Saturday evening during the Osun State Awards Night Ceremony.