Former  governor of Akwa Ibom State, Senator Godswill Akpabio disclosed that over 266,000 new members have registered with the APC after he and some other people dumped the PDP.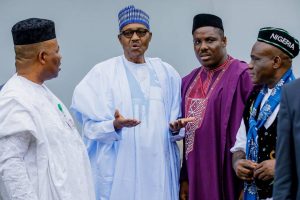 Akpabio who led an Akwa Ibom delegation to the Presidential Villa to meet with President Muhammadu Buhari said what remained of the PDP in the state was mere carcass as the body and soul of the party had joined the APC.
He maintained that the APC would record landslide victory in the 2019 general elections in the state.
"I believe strongly that the fact speaks for itself. For the calibre of personages you saw today, the strength of the delegation and the character of the delegation, the capacities and the personalities that you have witnessed is very clear that President Muhammadu Buhari will win Akwa Ibom State come 2019 general elections with landslide.
"I can predict that the first state in Nigeria to fall to the APC in 2019 presidential election is Akwa Ibom State, no one can controvert this l still speak with authority because I have my people's backing to pronounce what I have just pronounced, victory is for APC and victory is for Mr. President come 2019 in Akwa Ibom State."
"I am assuring you that we are not only going to win, the President will also win Akwa Ibom State."
It would be recalled that in 2015, PDP won Akwa Ibom with 953,304 while APC score 58, 411.
Akpabio alleged that the Peoples Democratic Party( PDP) led federal government never constructed any road in Akwa Ibom State in 16 years.
"You need to know that I was governor of Akwa Ibom State for eight years and in the eight years of being a governor I cannot remember when there was one kilometre of road that was done by the federal government in my state, that is the first thing.
" Akwa Ibom people have never faired this well since 1999 even under the PDP administration. I am beginning to think that the reason why we were not even given enough appointments under the PDP administration was because they took for granted that Akwa Ibom was a PDP state. But this President went out of his way to give a lot of our children the opportunity to have sensitive appointments at the federal level and we are very grateful."
"I know that there was a time when I was governor, we had just a minister of state for many years and today we have a full-fledged Minister of Budget and National Planning as well as other appointments. So we are very satisfied and we believe strongly that we have to reciprocate this gesture by voting solidly for Mr. President."
He also disclosed that his heart was with the President in the 2015 election despite the fact he was a member of  PDP