Nigeria Labour Congress NLC has said any move to deduct the salaries of Nigerian workers on the account of Covid-19  anywhere is illegal.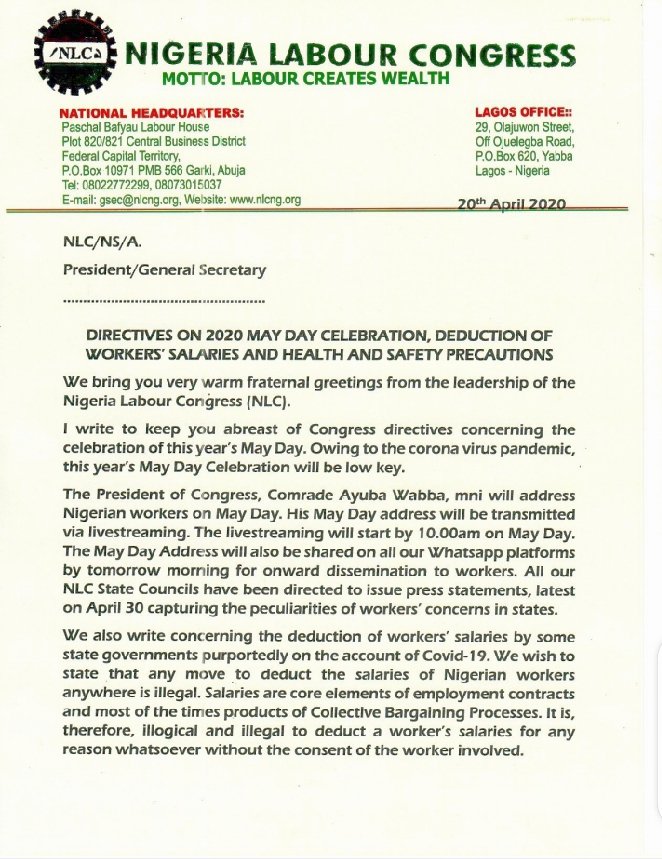 This was contained in a statement signed by the General Secretary Comrade Emmanuel Ugboaja, Esq where directives on May day celebration was stated.
According to the labour Union "Salaries are core elements of employment contracts and most of the times products of Collective Bargaining Processes. It is, therefore, illogical and illegal to deduct a worker's salaries for any reason whatsoever without the consent of the worker Involved."
"Furthermore, we are living in very difficult and trying times. Owing to stifling of economic activities, prices of goods and services have generally soared. As always, workers are at the receiving end. At this time, we are canvassing for preservation of income and other palliatives from employers of labour to cushion the harsh economic realities imposed by the novel corona virus pandemic. The thought of deduction of workers' salaries at this time is simply unthinkable."
While urging Nigerian workers on safety precautions on Covid-19. The congress express that 'our economy and workplaces cannot be on lockdown forever, we anticipate a re-opening of the productive space sooner than later."
Meanwhile the statement stated further that the President of Congress, Comrade Ayuba Wabba,s address on May Day will be transmitted via livestreaming which will start by 10.00am.