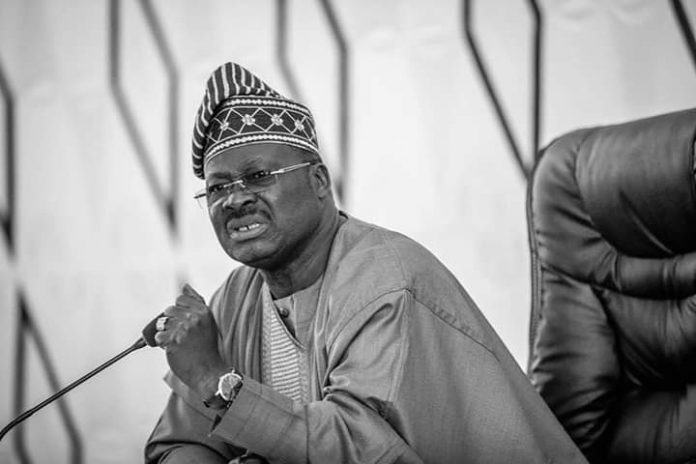 The Chairman, Conference of Obas and Chiefs of Oke Ogun and Aseyin of Iseyin land, Oba Dr. Abdul Ganiy Adekunle Salau, JP, DVM, Oloogunebi-Ajinese 1, has condoled with family, Oyo State government and people over the demise of former Governor Abiola Ajimobi.
In a release issued and signed by His Royal Majesty today, Aseyin said the death of Ajimobi was not only a loss to his family, Oyo State government and politicians but to every soul in the State.
The monarch who identified Ajimobi as his good elder brother right with whom he had cordial relationship with during their childhood years hinted that he is going to miss Ajimobi personally.
"The former Governor was my brother by blood and he realised and demonstrated that throughout his eight years as Governor of the State. I, people of Iseyin, Oke Ogun and Oyo State have lost an icon who served us sincerely and successfully gave us new Oyo", Ajinese said
"As a matter of fact, my late brother was a great achiever and the good people of the State will continue to remember him for his clowning attributes that made things happened during his tenure", he disclosed.
The royal father identified Ajimobi as the Governor who ran his administration in Oyo State and got his priority right.
"He gave us appreciative security system that Oyo State has never had and extended valuable dividends of democracy to all zones in the State. These truly were unprecedented and he would be remembered for all these", Oba Salau stressed.
He prayed onto God to grant Ajimobi eternal rest, forgive all his shortcomings and reward him with Aljanna Firdaous on the day of accountability.
Also in his prayers, Oba Salau appealed to God to be with members of his family and Oyo State government and give them the fortitude to bear the irreplaceable loss.