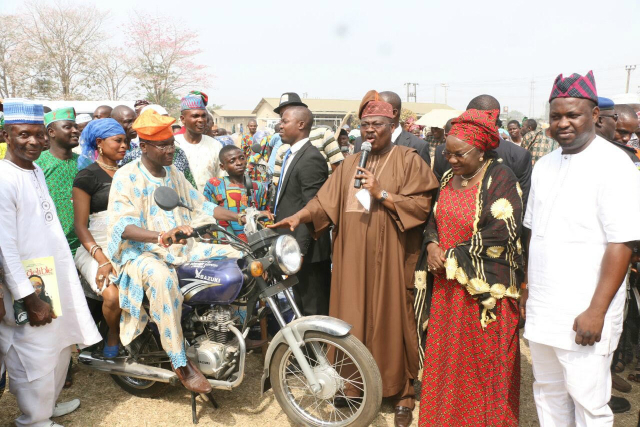 Gov. Abiola Ajimobi of Oyo State and constituents of Oyo Central Senatorial District on Friday commended the giant strides of their representative, Sen. Monsurat Sunmonu
They gave the applauds at the Empowerment Programme organised by Sunmonu at the International Institute of Tropical Agriculture(IITA) in Ibadan.
Sunmonu(APC-Oyo Central Senatorial District) is the Chairman, Senate Committee on Foreign Affairs and former Speaker of the Oyo State House of Assembly.
Oyo Central Senatorial District comprises of 11 local governments of the state, namely Surulere, Egbeda, Oluyole, Ona-Ara, Akinyele, Lagelu, Atiba, Oyo West, Afijio, Oyo East and Ogo-Oluwa.
Among the several millions worth of empowerment materials distributed are Sewing Machines, Hair Dryers, Generation Sets, Hand Sprayers, Gas Cookers, Fertilizers and Motorcycle
Ajimobi stated that Sunmonu has proved to be a worthy representative of the district and the state at large, considering the tremendous achievements she has recorded.
The governor, who recalled her outstanding performance as the speaker of the State Assembly, said Sunmonu facilitated projects and contributed actively at the National Assembly.
"Sunmonu has been doing very well. She is active and very intelligent. She is a worthy representative, who has  exhibited Integrity, Godliness, Patriotism and Selflessness," he said.
He urged other members to emulate Sunmonu, saying every responsible and responsive representative must make the welfare of their people paramount on their minds.
In their remarks, Prince Kunle Sanda, S.M Akindele and Mr Sunday Adewale all applauded Sunmonu for her unparalleled achievements and strong commitment to the welfare of her people.
Sanda, Akindele and Adewale, who spoke onbehalf of Ibadan, Oyo and Ogbomoso divisions of the senatorial district respectively appreciated the lawmaker for being a better example of good representation representative emulate.
Also, Olufunmilayo Philips, a beneficiary of Sunmonu's scholarship appreciated the lawmaker for her support, which covered his education and all other external examinations
Philips, who is undergoing a Masters Degree in Mathematics at WUHAN University of Technology, China said that the lawmaker also facilitated international scholarship for him.
He was the best performing student at a Mathematics Competition organised by National Association of Oyo Students(NAOS)
In her speech, Sunmonu stated that the work of a legislator exceeded dishing out cash gifts to constituents but involved facilitation of projects and ensure the executive does their jobs.
She said that she had primarily sponsored four bills, co-sponsored 10 bills, primary sponsor of seven motions, co-sponsored/supported many motions and have efficiently and effectively carried out oversight functions
Her four sponsored bills are Ammendment of the Electoral Act, Ammendment of Arbitration and Conciliation Act, Ammendment of Federal Road Safety Act and Ammendment of Criminal Code Act.
The lawmaker said that she had executed several community programs among which was the provision of 25 Transformers across the senatorial district, which would be inaugurated in February.
According to her,"apart from the empowerment materials distributed today, I have provided exercise books to students, revolving loans to market women and empowered people living with disabilities.
"I have facilitated both national and international scholarships/ bursaries both national for no fewer than 30 students from the district and have presented over 300 JAMB forms to indigent students
"I have provided ICT centres across the district and market facilities at Egbeda market."
Sunmonu said she facilitated resumption of work at the new Oyo-Ogbomoso expressway, repair of Adegbayi axis of Ibadan-Ife expressway, repairs of Sawmill-Owode Oyo road and repair of Akobo bridge in Ibadan.
The Senate Committee Chairman said that she has maintained regular interactions with her constituents through town hall meetings
She commended Ajimobi for his unwavering support towards her success at the National Assembly, likewise royal fathers across the state, who have always offered foresight and advice on dealing with wide-ranging issues.
Dignitaries at the event includes members of the state executive council, some members of the National Assembly from the state, State Party Executives and members of the 7th Assembly in the state