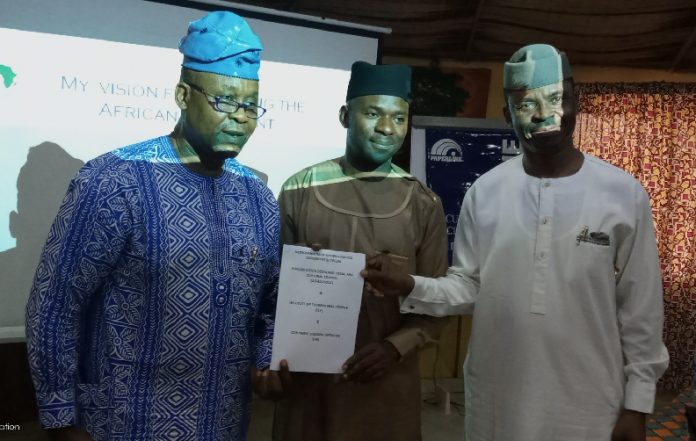 In a bid to achieve African Union Agenda 2063 in Africa, the African Union- ECOSOC Nigeria has signed a Memorandum of Understanding Mou with Continent Building Initiative, CBI and Institute of Tourism Professionals in Nigeria
African Union Economic, Socio and Cultural AU-ECOSOC, is an arm of African Union saddled with advising supporting and assist in implementation of the commission on its objectives program and policies.
Agenda 2063 which was launched in 2013 is Africa's blueprint and master plan for transforming Africa into the global powerhouse of the future.
According to the African Union, it is the continent's strategic framework that aims to deliver on its goal for inclusive and sustainable development and is a concrete manifestation of the pan-African drive for unity, self-determination, freedom, progress and collective prosperity pursued under Pan-Africanism and African Renaissance
The tripartite agreement was part of the activities that climaxed the 3 day retreat on Agenda 2063, The Africa We Want held at La Campagne Tropicana Beach Resort Ibeju lekki Lagos.
At the retreats, representatives of state including Nassarawa, Ekiti, Niger, Bayelsa and others as well as group of individuals from Non-governmental organizational were present.
The chief Host Otunba Wanle Akinboboye who is also the founder of Motherland Beckons said the rationale behind the retreat is to sensitize stakeholders on the need to work and support paradigm shift from the Africa created by the colonial masters and the African we want.
He maintained that , It is time for more action and less talk, adding that African value should be placed more on African culture, tradition and other potentials which can enhance economic prosperity and development of Africa.
Akinboboye also stressed the urgent need for concerted efforts by all stakeholders to collaborate and take African to its deserved position as the second largest continent in the world.
Oba Olasunkanmi John, the Nigerian representative on the platform of AU ECOSOC while speaking on the agreement said the collaboration is symbolic because it would enhance speedy growth and development in Africa
" One of the major programme of AU which we are promoting now is Agenda 2063, the agenda is a strategic framework that is designed to help tailored the member state towards achieving the African we want, a peaceful African, an African that is developed by its own people, a cultured Africa that rely in its own resources to develop its environment and society, That is African we want and this is a 50 years program the agenda is broken into 10years so we are looking at how we can facilitates investors across the world to help build infrastructure, secondly Africa is a tourism continent with very huge potentials and we are not taking advantage of that, what we are trying to do is extend the Institute of Tourism Professionals to other African Countries and help them develop policies agenda and development of tourism because very soon culture and tourism will take a center stage in Africa
President of Institute of Professionals of Nigeria Chief Abiodun Odusanwo said institute is into capacity building, and development of the sector, with this agreement we are going to ensure the quality delivery of services to ensure there are standard across African state.
The conference also provide opportunity for states to present the position of their cultural tourism assets and state how investors can help in the development of the sites