Muideen Adepoju popularly known as LALA play  a leading character of a stage play entitled Ifajuyigbe, the movie which was directed by Professor Rasaki Bakare of Federal University Oye Ekiti  tells the story of the late  Fracis Adekunle Fajuyi the first Military Governor of the Western Region who was killed in 1966. Adepoju in this interview spoke about the role he played and why he thinks government should further immortalizes Adekunle Fajuyi
My name is Muideen Oladapo popularly known as LALA
Today you play a the leading role of Fajuyi in a stage play entitled Ifajuyigbe, how do you feel?
I feel great because it's a privilege for me to cast as FAJUYI because he was a great man when he was alive, so when the director told me that I am going to play his role in the stage  play I was happy and I give all my best and I thank  Almighty Allah for helping me through
How long does it take you to assimilate and understand the role?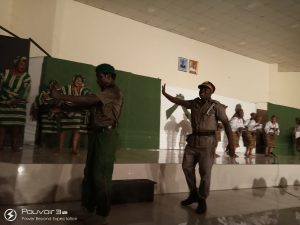 Normally for a stage performance it takes about six weeks but before we were called for the rehearsal once I was informed I started a research work on him, his countenance, the way he behaves and others and when I get to the camp it wasn't difficult to understand.
Are you satisfy with the role
I cannot judge myself but with the gesture and remarks  of the audience especially that of Ekiti state  first lady, Erelu Bisi Fayemi,  I am satisfy  and  in think people are happy too, I thank God and I am happy because I think  I got it right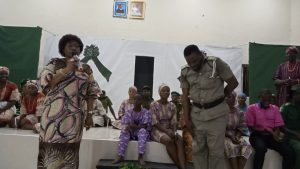 If you are called tomorrow to play the same role will you be happy doing that
I have no choice, if they ask me to come and play the character of  Fajuyi anytime  and anywhere in the world  I will go because apart from being an artist I love the man he was a man of great virtue
 What endeared you to Fajuyi
Yes  I know some stories about Fajuyi, even in my school we have FAJ hall,  go to OAU  you  will see some  things named after him, we had about the story and everything that happened to him but when I was invited to come and play the role and  with my research I realize that he is a man that doesn't take nonsense, he is a trustworthy person , he loved everybody, he is not tribalistic, he sees everybody as brothers and sister, that makes me more emotional when I was studying the script. He died for peace, he didn't want war to happened in Nigeria , had it bee they killed Aguyi Ironsi and left him alone  we all known what might have happened  but he died to avoid  a war, he sacrificed his life , he is an hero , he was a very wonderful man  and may his soul continue to rest in peace.
Would you say that the role he played has been appreciated by both the state and the Federal Government?
With this story  I believe more  will come, they've appreciate this man enough,  he was a man that should be continuously  be  celebrated , he did not died for only Aguyi Ironsi alone , he died for all Nigerians, he died because he want Nigeria  to continue to exist, so we should appreciate him more, I know in Ado Ekiti there is Fajuyi park and others but that is not enough, most people  don't know who Fajuyi was during his lifetime, especially the younger generations , they don't know anything about him apart from he was the first governor of Western region  he is a man of honour , Nigeria should appreciate him more.