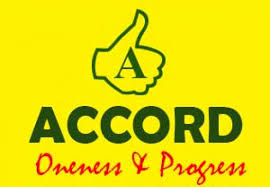 Chairmen and chieftains of Accord Party in five Southwest states (Ekiti, Lagos, Ogun, Ondo and Osun) have met to set up an eleven-man committee to liaise and promote the party's agenda with the Coalition of United Political Parties under the leadership of former Osun State Governor, Prince Olagunsoye Oyinlola.
The committee, with its members drawn from five of the six southwestern states; Ekiti, Lagos, Ogun, Ondo and Osun states (excluding Oyo), is headed by a former Presidential Adviser, Dr Doyin Okupe.
The party chieftains, arising from a meeting in Iperu, Ogun State, over the weekend said "the major task before the committee is to register the interest of the southwest geo-political zone of the Accord Party (excluding the Oyo State chapter) with the coalition and ensure it is properly represented."
The Party Chieftains also passed a vote of confidence on the leadership of Dr Doyin Okupe as the Southwest leader of the party, saying they believe strongly in his capacity to lead the Party in the zone to success in the coming election.