It is still a miracle how four journalists last Monday escaped death when a Honda SUV  in which they were traveling from Ibadan  somersaulted thrice and crash landed .
They were Dhikrulahi Akinola, of insideoyo.com , Remi Oladoye of National Insight , Ayodele Idowu of Mega Icon Magazine and Bola Olalere of Oyo Herald and Lekki Express.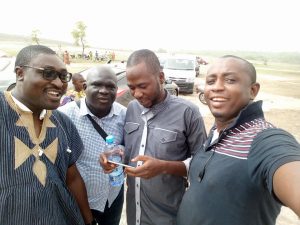 The journalists were billed to  to cover the annual Iyamopo Tourism event and investigate the activities of  bandits kidnapping and robbing people on Igbeti-Igboho and Saki axis of the state.
According to the information available to our reporter by one of the victims, the accident occurred at Dogo, a community in Olorunsogo local government area of the state
"  The car skidded off the road and somersaulted thrice in an attempt to save the life of a 3 year old boy who just appeared in the middle of the road  from nowhere"
" None of the villagers  responded immediately until about few minutes later"
" We all came out with little injury, Ayodele Idowu  of www.megaiconmagazine .com sustained injury on his head, while  National Insight  news Editor Remi Oladoye 's right wrist was affected, and Debo Akinola of Insideoyo had dislocation on his knee.
Dhikrulai Adebowale Oranmiyan 11  In his narration said "  We called Wale Oscar, Personal Assistant to Hon Bosun Oladele, A federal Lawmaker representing  Olorunsogo/Irepo/oorelope Federal constituency that came  to pick us and took us to General Hospital Igbeti for medical attention.
" After we've relax for some hours at the hotel rooms we left for the tourism event, climb Iyamapo hill and later returned to our hotel rooms later in the evening "
" We have to thank Hon Bosun Oladele , who foot all the bills and returned us to Ibadan on Tuesday.