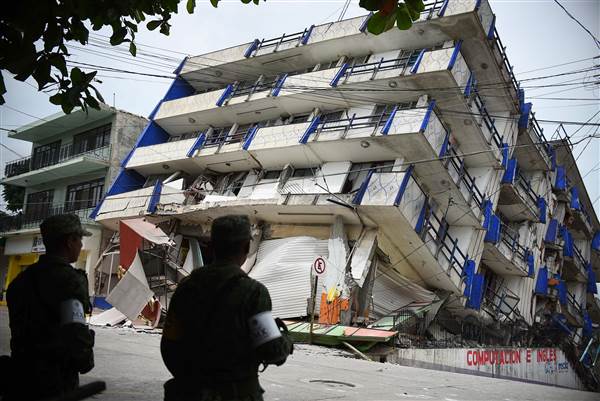 Mexico earthquake kills at least
No fewer than 61 people were reportedly died in  what is assumed to be the strongest earthquake to hit Mexico in a century
Guardian reports  that the magnitude 8.1 quake struck off the country's southern Pacific coast, 100 miles (165km) west of the state of Chiapas just before midnight on Thursday local time.
The tremor appears to have been stronger than the magnitude 8.0 earthquake in 1985 that levelled large portions of the capital, killing 5,000 people and destroying 10,000 houses.
All the deaths were in three neighbouring states clustered round the epicentre. In Oaxaca, 45 people died and in Tabasco three people lost their lives, the head of Mexico's civil protection agency, Luis Felipe Puentes, said.
Chiapas's governor, Manuel Velasco, said 12 had died in Chiapas, bringing the total to 61.
Velasco called on people living near the coast to leave their houses as a protective measure.
"There is damage to hospitals that have lost energy," he said. "Homes, schools and hospitals have been damaged."
The Tabasco governor, Arturo Núñez, said two dead in his state were children. One died after a wall collapsed and the other, a baby, died in a children's hospital after a power cut stopped electricity to its ventilator.
On Friday morning, Mexico's president, Enrique Peña Nieto, tweeted: "Sadly, there are reports that people have died. My deepest condolences to their families."
The president said at least a million people had been left without electricity after the quake, but power had since been restored to 800,000 of them. He urged people to be vigilant and to check gas supplies as well as walls and columns.
The US Geological Survey recorded at least 20 aftershocks of magnitude 4.0 or greater within about five hours after the main shake, and the president warned that a major aftershock as large as magnitude 7.2 could occur.
In a series of tweets, Peña Nieto said schools would be closed for the day in Mexico City, the state of Mexico, Chiapas, Hidalgo, Veracruz, Guerrero, Tabasco, Oaxaca, Puebla and Tlaxcala. He said the suspension of classes would allow experts to determine the damage to schools.
The Pacific tsunami warning centre said waves as high as three metres could strike the coast but the president sought to allay fears about huge waves rushing towards the coastline, telling the Televisa TV network: "The tsunami risk on the Chiapas coast does not represent a major risk. It's not very big, it's not a major worry."
Rodrigo Soberanes, who lives near San Cristóbal de las Casas in Chiapas, told Associated Press his house had "moved like chewing gum" during the quake.
Reports suggested that a hotel in the south of the country was among the buildings that suffered severe damage, and rescuers were searching for trapped people.
www.theguardian.com