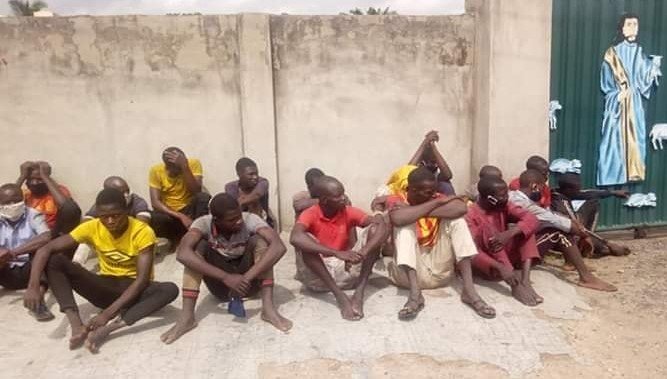 About fifty able bodied men from Kaduna and kebbi state were today intercepted by local task force and security operatives in Ogbomoso area of oyo state .
The recalcitrant elements who defies interstate movement were caught at different location in Ogbomoso.
A source revealed that Some of them were caught while alighting from an articulated vehicle around Federal Government college area of Ogbomoso while others were caught along the express road
The chairman of Ogbomoso North local government Alhaji Ibrahim Ajagbe who confirmed the incident said the intruders were intercepted and have been moved out of the state
He said " Immediately were heard the information we quickly moved to the scene and stopped them from moving to any part of the community, after interrogating them we took them inside the 3 buses and returned them to Oyo state border with kwara
Ajagbe said The Divisional Police officer, representatives of Ogbomoso Parapo Vigilante group as well as NCDC were involved in the development
The council boss commended all the stakeholders for their prompt response in the fight against coronavirus in the zone
As at the time of filling this report about 10 people including women and little children were dropped at caretaker area in Ogbomoso.
It was gathered that the non-indigenes who came from the northern part of the country were dropped by a vehicle beside Olaogun filling station and they are yet to move