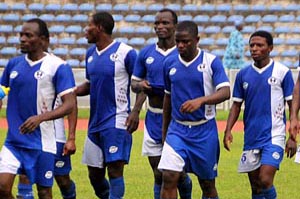 Towards returning the lost glory of the first clubside in Nigeria to win a continental laurel and make it self-reliance, the leadership of 3SC supporters club has concluded plan to host a grand event at Lekan.
Salami Sports Complex Ibadan today where 500 million endowment fund would be launch to support the club.
The event according to the acting chairman of the unified supporters club Comrade Femi Oyeniyi is part of action-plans mapped out to reposition the traditional club, as major problem facing the club always boils down to finances.
"State government cannot be left alone to cater for all needs of the club, hence initiated moves to involve some well-meaning people in the south/west geo-political zone of the country to drive the revival the club", Oyeniyi noted.
Ibadan based fuji act, Taye Akande Adebisi is expected to be on band stand along-side other notable entertainers at the event while His
Royal majesty Oba Enitan Ogunwusi, the Oni of Ife and the Alaafin of
Oyo Oba Lamidi Olayiwola Adeyemi would be on ground as royal fathers of the day.
All the followers of the team are enjoying to troop out in their usual
manner to grace the event and lend their support to the fund raising
event so that the dream of seeing the team returning back to the top
flight cadre of Nigerian football can be quickly realized.