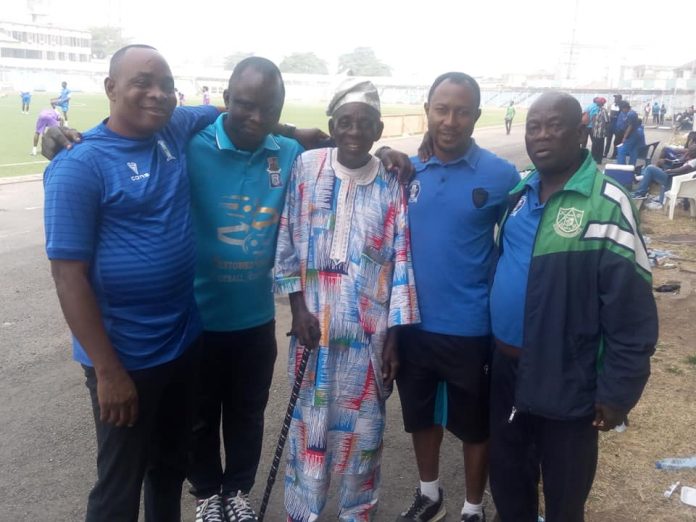 Oyo state own shooting star football club celebrates their oldest fan, Alhaji Olayiwola Lakondoro at 108
The club's media manager Tosin Omojola in a statement said "The entire Shooting Stars family, felicitates with our former chairman, Alhaji Olayiwola Lakondoro, on the occasion of his 108th birthday celebration, today, Tuesday, January 7, 2020. Born on January 7,1912 to traditional worshiper parents, Pa Babalola Lankorodoro and Madam Ifaranti Lankorodoro of Ile Otun, Oje in Ibadan North East Local Government with their village at Saago Idiiya, Ido Local Government.
Pa lakondoro schooled at Oke Are Theological Seminary, Ibadan and St Finnbar, Lagos and taught briefly as a teacher before he joined the colonial army in 1939 for the 2nd World War which took him to Scotland, India, Trimia etc alongside the late Olubadan of Ibadan land also then an Officer
Apart from being the Foundation members of WNDC-Shooting Stars in 1963 He is also the only surviving members of Nigeria Footballers, named UK Tourists who traveled to Britain and played with bare foot. His squad name was #Lai #Baba.
"I never knew I would be this old on the surface of the earth. It is just a grace and I give all glory and adoration to the Almighty for His mercy! I taught I would die before today for my an illness which kept me in bed for three months. I thank God and the generality of my family who spent so much on me to be alive! That's why opted for low keyed event. I appreciate my friends too, Old and Young, their love and prayers kept me on. Thank you all: He said
Additional report from Jubril Arowolo