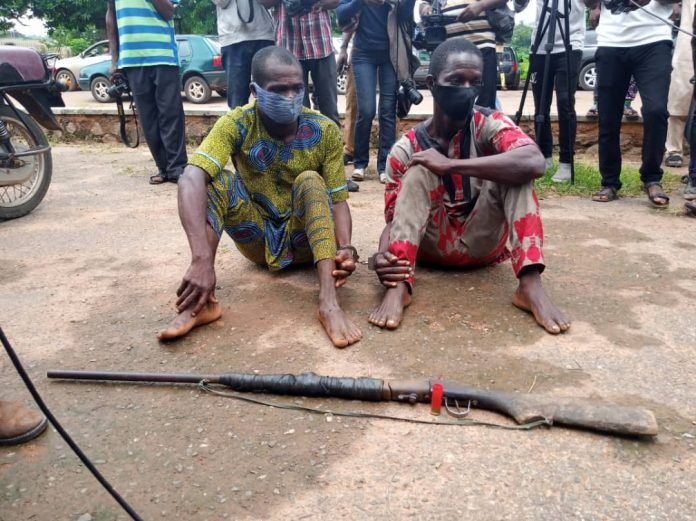 Kehinde Ayanboade,
Ibadan.
The Oyo state Police Command has arrested one Daniel Qudus, a palm wine seller, who reportedly instructed his friend, Akinyemi Akinlolu, to shoot his own 12-year-old son, Venzan Qudus claiming he wanted to fortify his son because of Fulani herdsmen.
The Oyo state Commissioner of Police made this known on Tuesday while parading the trio of Daniel Qudus, 43, Akinyemi Akinlolu, 44, and Oluwatunji Oluwatuyi, 51, saying they were arrested with one locally made single barrel gun and one empty cartridge.
The Oyo state police boss said the trio were arrested for conspiracy and attempted murder, following the shooting of Venzan with a locally made single barrel gun by one Akinyemi Akinlolu on the instruction of his father, one Daniel Qudus, a Nationale of Republic of Benin domiciled at Aba Oyo Olorunda area of Ibadan.
CP. Nwachukwu Enwonwu stressed that the Daniel and Akinlolu carried out the act in order to test the efficacy of a charm acquired from the herbalist.
Nationalinsightnews.com gathered that on Tuesday, Daniel Qudus' son (Venzan) landed at the University Teaching Hospital (UCH), Ibadan, after he was shot with a gun in the chest and hand on the instruction of his own father at Aba-Oyo along Idi-igba road, in Olorunda in Lagelu Local Government Area of Oyo state.
Daniel had instructed his friend, Akinlolu, to shoot the 12-year-old boy while testing the efficacy of a newly acquired charm (bullet repellant) giving to him by a 51-year-old herbalist and hunter, Oluwatunji Oluwatuyi.
Addressing newsmen shortly after the criminals were paraded by Oyo state Commissioner of Police, CP. Joe Nwachukwu Enwonwu on Tuesday, Daniel said he collected the bullet repellant (Ayeta) from the herbalist to fortify his son, as a result of incessant attacks on the villagers by Fulani herders.
But the herbalist, Oluwatuyi, said he gave "goodluck charms" (Eyonu Agba) to Daniel and not a bullet repellant.