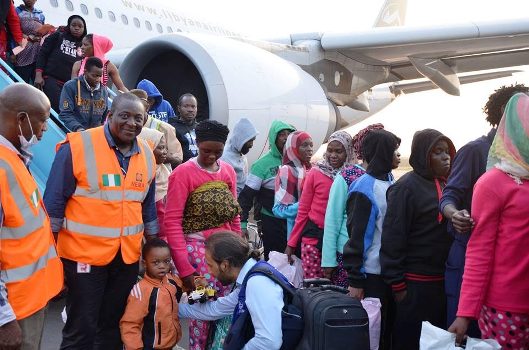 About 242 Nigerian migrants stranded in Libya have been returned to their home country, Nigerian officials said.
CNN reports that the 242 migrants landed at Lagos airport on a Libyan Airlines flight at around 9:00 pm local time (3:00pm ET) on Tuesday. Among them were women carrying children and at least one man in a wheelchair.
Nigerian authorities say they worked on returning the migrants from Libya in collaboration with the International Organization for Migration (IOM).
Some of the 242 men and women who returned had been in Libyan detention camps while others willingly approached the Nigerian embassy in Libya to return home because of hardship there, authorities said.
Abike Dabiri, senior special adviser on foreign and diaspora affairs to Nigerian President Muhammadu Buhari, said the government there had been working with the IOM, the Nigerian National Commission for Refugees, Migrants and Internally Displaced Persons (NCFRMI) and other local agencies to bring Nigerians back home
Source http://edition.cnn.com