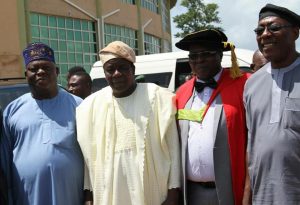 A professor of  Solid Earth Geophysics Adeniyi Olowofela, has decried inadequate manpower in Solid Earth Geophysics in the Nigerian university system.
Olowofela, who is the Oyo State Commissioner for Education, Science and Technology said this in   paper entitled "The Use of Innocuous Geo (Physical) Tools In Discerning The Bowel of The Earth: A Strategy For Manpower Development."   Presented at the  56th Inaugural Lecturer of the Federal University of Agriculture, Abeokuta
He said though the nation had 158 universities, there were less than 2,000 geophysicists in those institutions.
He  called on the government and stakeholders in the education sector to urgently address the challenge, in order to harness the financial prosperity embedded in Geophysics.
"As of 2018, the total number of universities in Nigeria is 158 with less than 2,000 Geophysicists in these institutions. For a population of over 170 million people, the intellectual 'warehouse' of this subject is abysmally low."
The inaugural lecturer attributed the development to "high cost of setting up geophysics research."
He said, "If we can be creative and ingenious in our approach, as demonstrated in this lecture, we shall be able to produce quality and adequate manpower (in Solid Earth Geophysics) in the country and open ways to financial prosperity."
He expressed gratitude to the Vice-Chancellor, Prof. Kolawole Salako, the Dean, College of Physical Sciences (COLPHYS) and the university community for the privilege given to him to deliver the institution's 56th inaugural lecture.
The Vice Chancellor Prof. Kolawole Salako, in his addressed  described Olowofela as a Solid Earth Geophysicist per excellence.
He added that his lecture has given a better understanding to relevance of Geophysics and its capability to create wealth through tapping into God given mineral resources available underground.
The inaugural lecture was graced by the Oyo State Deputy Governor, Chief Moses Adeyemo who represented Governor Abiola Ajimobi, commissioners and Special Advisers, as well as heads of tertiary institutions and traditional rulers  in the Oyo State