Mapo  Hall, the colonial style Ibadan City Hall was designed and constructed by Engineer Robert Jones a Welsh man who also design Bower's Tower and  Manor House in Iseyin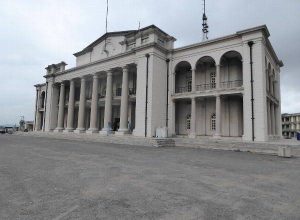 The Hall is built on a piece of land measuring 5,969 acres
The architecture of the hall, modeled after St George's Hall Liverpool, is a constant reminder of early British influence in the administration of Ibadan as part of the Oyo Province.
The foundation stone was laid in June 1925 by Capt. W. A. Ross (The Resident, Oyo Province) and it was completed and declared open by His Excellency, Sir Graeme Thomson during the traditional leadership of Oba Shiyanbola Ladugbolu, the Alaafin of Oyo and Oyewole, the Baale of Ibadan.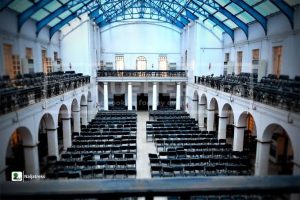 The cost of construction was £24,000 and the construction took four years between 1925 and 1929
Mapo Hall was commissioned during the colonial era by Captain Ross in October 5 1929
The hall serves as an important landmark that could be seen from most part of the city, especially from the other six hills between which the city spreads out. Labour was provided by the natives, probably by the prisoners held here as tax defaulters and other slaves.
The hall hosts a mini-museum where the relics of the chains used to hold tax evaders in the colonial era, are hung. There are also pictures of all Olubadan (King) that have reigned in Ibadan.
It is currently owned and managed by Ibadan Local Government Properties Company Limited.
It was renovated in 2006 amid by Otunba Adebayo Alao Akala administration and commissioned by former President Olusegun Obasanjo on 6th September 2007.