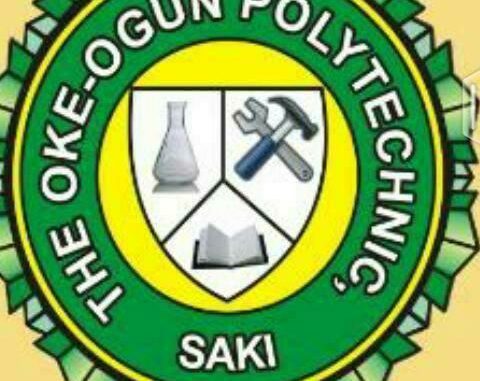 Members of the Academic Staff Union of Polytechnic (ASUP),  The Oke – Ogun Polytechnic Saki chapter, on Monday refused to sign the register opened by the Governing Council (GC) of the institution to compel them to end the embarked upon over the non payment of 11 months salaries by the Oyo state government.
The Governing Council of the polytechnic had Thursday after an emergency meeting held at the Oyo state Ministry of Education, suspended  the activities of the academic staff union and directed that all academic activities should resume at the institution immediately.
In a communique issued at the end of the meeting and  jointly signed by the trio of the Chairman,  Professor Moshood Tijani;  the Chairman, Council Negotiation Committee, Mr. Folorunsho Ayinla; and Registrar/Secretary to Council, Mr. A.O. Ojewole, the council also instructed the management of the polytechnic to put up a register in the Registrar's Conference Room for all academic staff to sign in.
According to the council,  signing of register would  close by 4. 00 p.m on Monday, September 10, 2018, and any member of staff who fails to comply with the directive should consider his or her job lost.
However, the striking Polytechnic lecturers on Monday refused to sign the register opened by the management, and instead converged on the car park of the institution's Administrative Building and addressed newsmen.
 In a press statement jointly signed by its Chairman, Comrade Muyiwa Olawumi and Secretary, Comrade Sikiru Isiak, the Oke – Ogun Polytechnic ASUP described the purported suspension of the activities of the union as " unconstitutional, illegal, null and void".
The union declared the council's action suspending its activities as "outdated, humiliating, degrading, archaic, ex – communicating, barbaric, embarrassing, dictatorial, provocative and undemocratic".
ASUP maintained that the Governing Council's action of coercing lecturers to resume was uncalled for when negotiation window as contained in its (union) response to the purported Memorandum of Understanding (MoU) had not been exhausted.
The union also noted that the Governing Council cannot go outside its statute to usurp the  power vested in the Registrar of Trade Unions under Trade Union Act.
The Oke Ogun Polytechnic ASUP demanded the "outright payment of all outstanding arrears, 10 months unremitted cooperative deductions, 7 months of full salary.
The striking lecturers  declared that "our patience and sacrifice have been stretched beyond limit".
Meanwhile,  by 4 p.m. on Monday, when the deadline given by the Governing Council to the striking lecturers to sign register lapsed, only 3 out of 108 members of the Oke Ogun Polytechnic ASUP members signed.