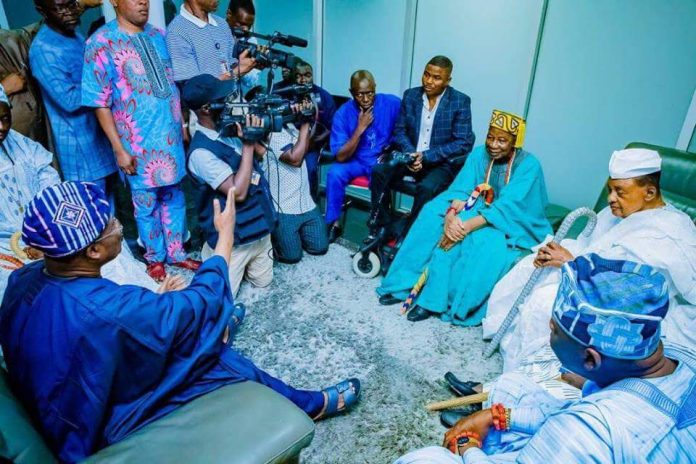 "On Thursday, we were at a meeting organised by the Broadcasting Organisation of Nigeria at Golden Tulip when we got a call from one of the governorship aspirants in the state.
He told us that the governor would like to see us. I was at the BON meeting with Yinka Ayefele and his younger brother. We felt that since they were the ones that invited us, we should honour the governor's call; so we excused ourselves from the BON meeting and went to the governor's office. We got there at about 12noon but the governor did not get to his office till about 4 pm. We did not leave the governor's office until about 7 pm. I was at the meeting with Yinka Ayefele and his younger brother."
"When the governor came into the office, we all prostrated to greet him being that he is older than us and we told them that we did not want cameras. We wanted a closed-door meeting with the governor so he asked the pressmen to excuse us but his private photographer did not leave the room. We noticed that while we were talking with the governor, the photographer was taking our pictures and uploading them on their twitter handle immediately.
The governor later invited his team to come and join us in the meeting; his team comprised the commissioner for information, a governorship aspirant in the state and about four special assistants. The governor told us his grievances. He told us that he could have saved the situation if only we had come to see him. He felt we ought to have come to beg him and our chairman, Yinka Ayefele, pointed it out that we had since told the commissioner for information to book an appointment with the governor.
He further said that he called the SSG to help him book an appointment with the governor even before this incident happened and the commissioner corroborated his claims but said that the governor was unavailable at the time."
"Coincidentally, there were about ten monarchs who were also waiting to see the governor as at the time we were waiting for him. They were led by the Alaafin of Oyo; so when the Obas saw Ayefele, they decided to rally round him. After they had met with the governor, they came back to meet Ayefele and possibly plead on his behalf to the governor. That was when they allowed the cameramen to enter and we felt it was more or less a set-up because we wanted a closed-door meeting. We did not want cameras but there was nothing we could do because we were at the governor's office. The monarchs appealed to the governor to help Ayefele rebuild the music house. After the monarchs left, the governor also left us with his team and told us to iron things out with them. They claimed that they wrote several letters to us but that we ignored them, they went ahead to say that we did not have a Certificate of Occupancy for the building and we showed them all the proof. They all agreed except one commissioner who said that we have to do damage control because we have dented his personality and that of Oyo State government. We had to tell him that it was beyond us because we did not ask people to abuse their government. If they had not demolished the Music House, people would not lay curses on the government. That was what happened at the meeting. The governor's team said they would get across to the governor on Thursday night to brief him and they would get back to us. We would wait for what the outcome of their meeting with the governor would be. We are not taking any position now."
– Yinka Ayefele's publicist; David Ajiboye