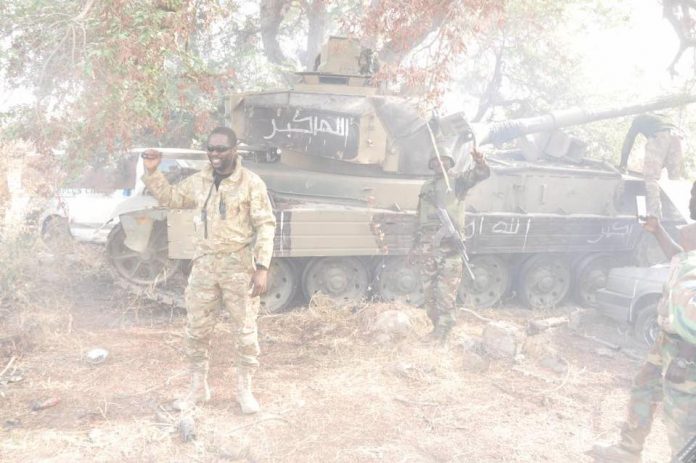 The National Committee of Yoruba Youth and the Coalition of Civil Society Groups against Terrorism in Nigeria, have described the ongoing clearing operations, in the dreaded Sambisa forest in the North East Nigeria, as the last deadly blow, required by the Federal government, to clear off the remnants of the Boko Haram insurgents.
The group, in a statement issued on Friday, and signed by its Convener, Comrade Odeyemi Oladimeji lauded the military for  their bravery and resilience, which has led to the liberation of the forest.
"As patriotic Nigerians and keen followers of event surrounding the campaign against terrorism in Nigeria, we are most delighted by reports emanating from Nigerians in that region and wish to specially commend the commitment of troops and officers of the Nigerian Army as they finally move to establish a permanent hold on the sambisa forest."
"We must also commended the untiring support of the administration of our dear President, Muhammadu Buhari to the army for not only ensuring the crushing of Boko Haram in their last stronghold of Sambisa forest but also by establishing critical infrastructure like the ongoing road constructions within the forest, thereby making it impossible, to serve as hideout and operational base, for criminal elements" the statement further said.
While assuring Nigerians of his believe in the capacity of the military to completely wipe out the remnants of the insurgents, the group says the days of Boko Haram are almost over as could be seen in their last desperate acts mainly aimed at clutching to their last straw.
The group also extended its sympathy, to the victims of the recent attacks on the camp of the internally displaced persons, in Borno State, describing as callous, while appealing to Nigerians, to spare their thoughts for the Internally Displaced Persons and extend every possible support that can be given, to renew their hope.