State governors have offered to pay a sum of N22,500 as minimum wage as against the N30,000 demanded by organised joint  labour unions led by the Nigeria Labour Congress (NLC) and the Trade Union Congress (TUC).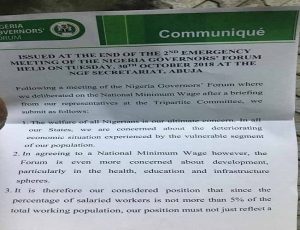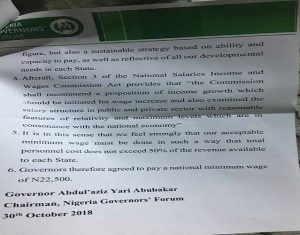 According to a statement by the Chairman of the Nigeria Governors Forum, Governor Abdul'aziz Yari Abubakar, the governors reached the conclusion based on their ability and capacity to pay.
The organized labour had earlier threatened to embark on a fresh nationwide industrial action from November 6.
The unions on Tuesday staged nationwide protests across the country, urging the government to approve the N30,000 minimum wage.
They said if the government fails to meet their demands by November 6, they would embark on the indefinite strike.