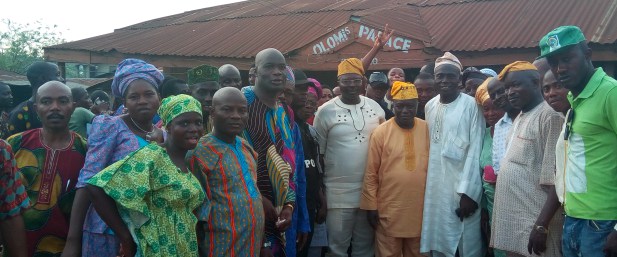 Ibadan born Legal Colossus, Adeniyi Akintola , SAN has  begin a move to succeed Senator Abiola Ajimobi as the Executive Governor of Oyo state in 2019.
Akintola  a former Deputy Speaker of the state  House of Assembly , on Sunday started  with a consultative meeting with stakeholders in Ido local government where he was accepted and endorsed by some of the major actors in Ido politics
At the Olomi  palace, where he held a brief meeting with the traditional chiefs , Balogun, Chief Mukaila Olasunmade who spoke on behalf of Olomi in council  noted that the endorsement was necessary at this critical period due to Akintola's antecedents and track record,   saying that he has contributed constructively, effectively and positively to the well-being, growth and development of the council and by extension Oyo State.
Chief Olasunmade emphasized that the legal luminary on several occasions had endowed many of the indigenes with free scholarships to further their education, given employment opportunities and financial empowerment, community support, financial support to churches and mosques within the council and beyond, declaring that the council, irrespective of political parties is proud to identify with him and his ambition.
Oyo state commissioner for education, science and technology, Prof. Olowofela, Akintola SAN (middle),and APC leader in Ido Lg, Alhaji AJISAFE, at the Olomi's palace on Sunday.
"During the conflict between Oyo and Ogun at Bakatari over boundary issue which led to crises in the area, Akintola , a true 'golden son' of the council came to our rescue by reclaiming the boundary after several legal battles"
"Our council can never forsake Akintola, we are proud of him and happy to identify with his ambition".
"This is the time for us to show appreciation to Akintola for a life full of service and support to his people. The fact that he has accepted to contest the governorship election in 2019, we feel that God Almighty has given us an opportunity to pay him back for all he has done to us by massively supporting his election bid".
" He ameliorated the plights of the people and put smiles on the faces of the distressed", he added.
They jointly advised him to hold on to the trademark, while reiterating their unblinking support.
Akintola participating in Sunday's ward nine (9) meeting of the All Progressives Congress (APC).
Earlier in his address, Mr Akintola lauded the state governor, Abiola Ajimobi for his superlative performance, just as he promised selfless service to the the people
The ex-lawmaker however sued for peace within the party calling on groups to resolve conflicting interests. "We need to sheath the sword and embrace peace. We must let our actions and utterances have a common goal".
The governorship aspirant was accompanied by APC chieftains in the council comprising Alhaji Kamorudeen Ajisafe, Pa Olayiwola Lakundoro, Alhaji Basiru Babalola, and Professor Adeniyi Olowofela, the state Commissioner for Education, Science and Technology.
Others are Hon. Wahab Oladejo, Caretaker Committee Chairman of Ido Local Government, Barrister Niyi Oyekunle, Caretaker Committee Chairman, Omi -Apata LCDA and a younger brother to Governor Abiola Ajimobi, Mr. Teslim Ajimobi, Caretaker Committee Chairman, Ibadan South East Local Government amongst others.
Akintola, who held a closed door meeting with the APC Elders Council in Ido Local Government, also participated in Sunday's ward nine (9) meeting of the All Progressives Congress (APC) at Islamic Primary School, Abidogun, Omi-Adio.
Source Megaiconmagazine.com