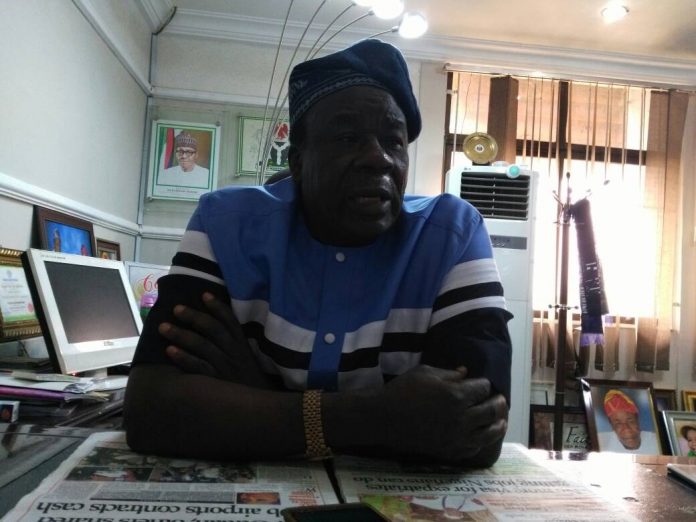 Chief Moses Alake Adeyemo is the Deputy Governor of Oyo state, in this interview with our crew the gubernatorial hopeful explains  his working relationship with Aimobi, his  passion  for development and why he is the best man to succeed Ajimobi as  the next governor of Oyo state.
Sir, you were known to be a financial analysts, at what point did you consider joining politics
Thank you, I joined politics fully after my retirement from the banking industry, I finished  my professional carrier as a banker ,  I retired in 1993 ,  after which I joined active politics , it is not that I joined politics when I was in active service
You joined active politics in 1993 and you rose to became the state Deputy Governor in 2011, how did you play your game
It's not magic, everything that you do in  life you do it with your good  spirit,  and God  will support  you  moreso I am highly connected with the fathers of politics so to say, you know I am a son to chief Michael Adeniyi Koleosho, (not a biological son), it  is through him that I became  what I am in politics today
 Sir seven years as the Deputy Governor , how have you been able to use your position to influence development in Oyo state  especially in Oke Ogun where you came from
Well,  you know by the constitution of Nigeria  a deputy Governor has little or nothing to say as far as issues are concerned , As a deputy, you  assists the Governor and ensure the government did not fail, your contributions to issues at the Executive council meetings and others also matters because , they may help in taking decisions that affects the state  and in  Oyo state since I became the deputy governor has been son peaceful, peaceful because  myself and the Governor  have a close rapport  I've not been a deputy governor that is too ambitious, who can truncate  peaceful relationship because if the deputy governor and the governor  are quarrelling , there can't  be peace in that administration  but we have been able  to achieve peace and therefore its most contributory factor to the developmental strides  that we have in Oyo state and when you look at the state you will see that In term of security, we have been able to achieve a lot because  before we came into governance, it was difficult for anybody in oyo state particularly in Ibadan to  move from one corner to the other without seeing area boiz and hoodlums causing problems to the extent that in 2011, when we came there was a medical student that got trapped in the war and was killed during the fracas between factional members of the National Union of Road Transport Workers
The peaceful atmosphere has helped this government to record a very good progress  in all sector, in the infrastructural development, education,  health and other  sector  and when you go to my area, oke ogun, that is my political zone, I can tell you that there is no government that has done so much in Oke Ogun, though people may not see it but I will tell you ,look at Iseyin what we spent there is more than 8Billion,  in saki too, we are doing something similar even than of Saki is longer that the one in Iseyin, it has never happened in the history of this state A school of Midwifery was established in Kishi during  our time   Also in Okeho, there is another institution, the Saki Campus of Ibadan Polytechnic has become autonomous , all this came during my period as a deputy governor of the state, there are other things could not mention but I think those are the most visible, no Oke Ogun people will say we have not done anything since we came in because when you quantify the amount of money we have spent in Oke Ogun alone you will see that no government has done that kind of  things so Oke Ogun has benefited a bit and you know everybody want more
The Oke Ogun region  has benefited from having the deputy governor for seven years  and still running they are agitating that they want to be governor of the state come 2019 , what else are they looking for
They are looking for more development , I have said all this but that doesn't mean it should end there, when you look at our road from Ojo to Kishi- Igbeti, you will see that they are nothing to write home about, I mean you take four hours from here to Igboho which is abnormal so we need roads, water, we need our schools to be rebuilt and so many other things, when we say that Oke Ogun want governor, it doesn't mean desperation, in every other state, the  number one position is shared among zones why is it that our own should always come from a particular place in oyo state
 Are you sure, having Oke Ogun governor will hasten development as you just mentioned now
Of course,  it doesn't mean that when we have a governor from that zone it is only oke ogun that governor who comes from that zone will work, he will work in other places but I want to sincerely tell you that things will be better, having their own son as the governor
And why do you think you are the best to do that
It is a question  which I think everybody can easily  answer, even if I don't answer the question every person in Oyo state knows that I am the best candidate , number one, like I told you I have been in the private sector for more than 2 decades, the experience of private sector is there, I have been in the public  sector by being a chairman of a local government for a period of twelve months that is Saki East and that time I was declared the best caretaker chairmen in the whole of Oyo state and one of the  best twelve in the whole of federation, out of 774,  the award was presented to me at Merit House in Abuja,    moreso, I don't think in the history of Oyo state no deputy governor has run for 8 years consecutively nobody and in that case you can see that I am the best, I have attended many NEC meeting, Governors forum, so many party's meeting and the rest of them, then I have been in the executive council of Oyo state for almost 8 years so nobody can challenge me in that and people say experience is the best teacher and if that is the case I am the best
Another thing is that I am a peaceful man, very godly and when you combine peace and Godliness and you put all those things into governance you will always achieves
Some people are of the view that it is criminals and people of bad character that can run a good governance because there will be a lot of deal and shaddy deal now you are Godly and  you want to be governor  how do you want to do it
Those who says criminals and wicked people are the best  don't know what they are talking about, because the government that  is so good must have made provision for criminals we have the SSS, Army Police, and other security agency, that is for them, but whoever is going to govern a state must be somebody that is Godly because if you are Godly you won't like to steal money , you will see to the welfare of almost everybody as far as the financial capacity of the state can carry , so Godliness is  something that is required, its  a key instrument of good governance
 Are you going to continue Ajimobi's policy when you eventually became the governor?
That is a very good question, you know I told you that i've been under Ajimobi for almost 8 years I have learnt so many good things from him and except you don't want to speak the gospel truth Ajimobi has performed excellently well in Oyo state, you can see yourself, he has perform very well, I am not saying he is a saint there may have been some areas that people might want to complain but when you want to award mark I think he deserves 90 percent interm of performance  and If that is the case it means I have  learnt a lot from him and there  must be a continuation of that kind of  good job that he has started and that doesn't mean that I will not have my own agenda so but to me he has performed  and whatever that has to built on will be continued
Now there is a general clamour in the country, not too young to run, people want younger people in the helms of affair do you think age is still on your side?
Laugh… luckily for us the constitution of Nigeria does not give age for anybody to be in politics it is only when you are in civil servant that they will say that after 35 years  you are off the shoe oor you are 60 years you must compulsorily retired tell me where the constitution says  somebody at my age cannot run, I am more agile than some of the younger  guys, the experience is there, like I told you  I am not saying the young ones should not come but there are certain things that the young should do and the fairly old people like me can also do,  so age is not a barrier to me personally  have you ever heard that I am in hospital, no I am a very agile person, I did a lot of spot while in school and now you can see that I am fit
May be due to Agbo that you  use to drink in Oke Ogun
That one has worked for  tender age
Before you declare for governorship sir, aspirant must have been coming to you to seek your support  how do you think they will feel when they heard that you are also contesting  sir
Well I know where you are going, it is true that some people have come to me  only one of the aspirant have come to me and them I have not decided but now that I am ready to also contest there shouldn't be any misgivings  about that,  it is politics, it is a game
Lets have an Insight into your background sir
I am from Igboho in Oorelope local government, my mother is from Saki East local government, that is Ogbooro,  about twelve mils interval, I was born almost about 68 years ago, I have been a professiona teacher I am a certificated teacher I  thought in Igbope Baptists  school before I left for Ghana in 1963, on getting to Ghana, I thought as a pupil teacher, a pupil teacher in Ghana is somebody who have no gone for any training and he is teaching with modern school  school cert,  after which I went to Teachers Training college, called Bimbila Evangelical  Presbyterian  teachers training college where I spent four years and after that  I did my O level as a private candidate, I never went to secondary school  after that I now decided to  do my HSC  , I was able to make Grade 1, later I went to a secondary school for my HSC  2 years from there I came to University of Nigeria Nzuka to read Banking and Finance which I finished in 1979, I was employed as a banker in Wema Bank and I spent almost 2 decades, after I left Wema Bank I went for my master degree in Finance  after that my people established a micro finance bank in Igboho and after my retirement from the banking Industry, I was invited to be the Managing Director and Chief Executive Officer  which I did for six years and it was in this  microfinance bank that the call to be the deputy governor came  and  now I am here
At what cadre did you leave Wema Bank?
Senior Manager
Sir what's your philosophy about life
My philosophy about life is that one must be contentment  in whatever position  you are, I am not saying people should not  struggle but don't overrun yourself, wherever you find yourself belief that there are several people behind you and always be grateful to almighty God, be satisfied, my being satisfied doesn't mean that you should not  aspire but don't plan to overthrow your bus or do anything against your boss because you don't know whether you will also come to that particular post  and whatever you have done to somebody they will do it to you and always remember that there is no permanent  position in life, every things is just for short period of life, known that you will leave wherever you are and try and do  your best and  to avoid mistakes remember that you are leaving that position  at a particular time
 Some people are not bold enough to tell people where they come from  you are from Oke Ogun  are you proud of hometown
Yes I am very proud of oke ogun
What makes you proud
Generally, what makes me proud of Oke  Ogun is that we are not destructive, we are gentle, we have human feelings  hardworking, God fearing our character is super, impeccable , there may be some bad element  who are trained in another place  but they come from Oke Ogun
If reincarnation is sure  do you still want to come from Oke Okun
I don't want to go to any other place oo I am an Oke Ogun man per Excellence
 What is your message to our reader and people in general
Well my message to the people of Oyo state is that  one, they should try somebody from Oke Ogun to be the next governor  of the state and that person should be , Moses Alake Adeyemo  who has been the deputy governor for 8 years, who has not caused  trouble in anyway and who is also  as intelligent as Ajimobi who is leading the state  and who is the ,most appropriate to carryon the good job of Ajimobi who is popularly known as Mr quality , everything that we did in this  state is quality, look at our roads  in Education we've been able to put in place a structure that will enhance quality, go to many schools  seen what the old student are doing, the place of learning contribute to the development  of brain,  let me tell you in Ghana when I was a teacher I taught under tree, the village they send me to there was no school there  so when the rain comes we ran into peoples house to hide  so many thing he has done and they are good quality and you will agree with me that he is  him mr extra quality
Sir about your ambition have you informed the Governor and what was his reaction
In fact he was the first person I informed about my ambition and he did not show any sign that he will work against me, he was happy that I am joining the race and I believe he will support me because he would want his quality governance and development in the state to continue
  An oke Ogun person Mrs Hannal Olawumi Ogunesan has just been appointed as Head of Service how do you feel
I am always happy when Oke Ogun people are appointed because I know , that position  he or she is holding will influence some development in the region ,