While at the award presentation program yesterday, a call came in and my true caller revealed "AbdFatai Buhari", I neglected the true caller revelation to be the real Sen. Buhari, since we never had any form of connection before.
As I was about sending a text to the number to call me back later that I was in a program, the call came in again and this time, I had to excuse myself to pick it, and amazingly, it was the real Sen. Buhari, he called to appreciate me for the kind birthday post I made about him a couple of months ago, that he just came across it and felt such a kind gesture from someone that never had any connection with him deserves an appreciation.
We spoke at length and in my mind, I was like this man will not kill me with his unassailable character and humility. He was pleading that whenever we observe he's doing something that's not good, that I should please not hesitate to call his attention, imagine this coming from a man who already has a faultless record.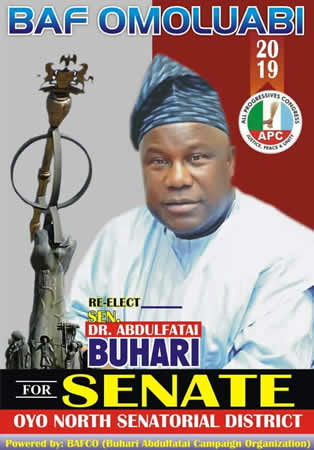 His humility is beyond letters, I've watched him interviewed on a TV program with his hands held to his back like a nobody, I've seen his pictures in meetings where he will sit on one side of a single chair as if he's expecting someone to sit next to him, the recent one was Gov. Ajimobi's wedding, while his followers and other dignitaries were on heavy agbada, this man was just on Buba and Sokoto…..
Someone may be wondering if its the humility alone that got me mad about him, hell NO! This is a man who recently do an empowerment program in Iseyin where lots of cars, bikes, sewing machine, grinding machine and lots more were distributed. That should be his second kind in just one tenure, of which, ever in history, the best we've ever had only did such empowerment once, and that once was never up to the same volume he has done twice..
I've been a TV person following every news now for the past 12yrs, I doubt if I had ever seen a Senator or rep from my constituency speak as much as Sen. Buhari, he has presented lots of sensibles bills, support student programs, gave scholarships and lots more.
This is a man who has genuinely sacrificed lavish life style to serving people selflessly. Such men of uncommon qualities deserve timeless encouragement and appreciation, so they can do more.
To be candid, here is the kind of politician that people should emulate and pray for, now going by his political records, I can say he has merited all political posts he has held in the past.
Its just my humble prayer, that God spare and protect him for us, he has already set an intimidating records.
Keep being a better you Sir. And I wish him the best of all all he ever wished for himself.