The Senator representing Oyo North Senatorial District at the upper chamber of the National Assembly Senator Buhari Abdulfatai has congratulated Muslim faithful on the sighting of the new crescent which signifies the commencement of holy month of Ramadan.
Senator Buhari in a congratulatory message made available by his media office stated that the uniqueness of this month cannot be overemphasized because it was during the period  the holy Quran was revealed to Prophet Muhammadu (SAW ).
Buhari who is the chairman Senate Committee Chairman on ICT & Cybercrime,r however enjoined muslims to take advantage of this month and other benefits inherent by increasing their Ibadah and supplications.
The statement read in part " you have to also exhibit spirit of sharing and giving through this month and after because every good thing done in this month is been rewarded in multiple folds by Almighty Allah.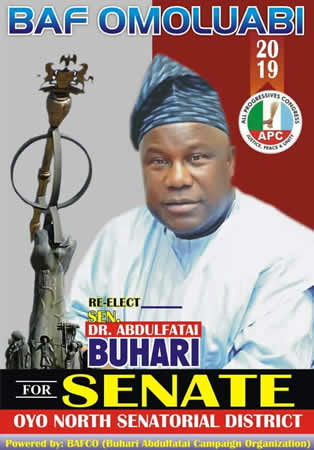 He urged Muslims to also pray to Allah to help the country overcome the myriad of challenges facing it at the moment and wish every muslim in Oyo state and Nigeria a blessed and wonderful month of Ramadan.