Sir, kindly permit me to use  your widely read medium to express my feelings on the performance of Senator Abdulfatai Buhari,  Senator representing my constituency, Oyo North at the upper chamber of the National Assembly,
Prior to his emergence as the senator, so many people from my constituency are not happy with the way we are being represented at the National Assembly especially at the Senate, since the days of Senator Brimoh Yusuf up till the time of Sen Hosea Agboola, I can bodily say our constituency is not well represented, they tried their best but  their best is far below what the occupier of the seat , Abdulfatai Buhari from ogbomoso  South is doing now
He is the first senator from that district that is given adequate representation, he is not only representing he is also delivering dividends of democracy to his constituents and we will never forget him   because his legacies will continue to speak for him even after he lives office.
For the first time in the history of Oke Ogun , a non indegene is making move for the establishment of University of Agriculture and Technology in Oke Ogun, the fact that he took some steps in  facilitating a federal University in the  region is a proof that he is a responsible and selfless  politician  who is passionate about the young ones, if the university scale through, obviously many of  our brothers are scattered all over the country doing menial job will come home and get work at the university, unemployment will reduce and   economic of the region will improved drastically.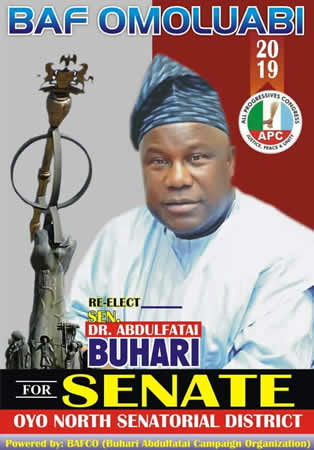 I was in Lagos during the massive  empowerment program  but I watched a clip on AIT news where he said he is working on Iseyin-Oyo road, Okeho –Iseyin road, Ikere gorge dam and  many other projects in the region, I was impressed and happy because I know we've never had it so good since 1999
Since he was elected, he has been demonstrating  his passion for the development  oke ogun and its people even though some  of his dream and vision are yet to materialize  but we can see through his action, relationship and support for our people that this man is one of us , we should treat him as one of us and accord him the necessary support he  deserve in his political carrier.
His two major empowerment program held in Saki and Iseyin are not only the best in the history of Oyo state as confirmed by the governor, but rich and quality interm of the number of items distributed and  people that benefitted , it is the largest so far, sharing of cars, transformer, generator grinding machine even motorcycle up to that volume  has never happened in the history of oyo north.
If our past senator and political leaders have been taking such beautiful steps towards the  advancement  and development of oke ogun may be the region would have been far better than where it is now, we've had minister , special adviser to president, close allies to people in power and hold key position at the state level, yet w e are not ,moving  at the phase that is expected of us
I want to conclude by saying that  those agitating for oke ogun to be governor should also consider Senator Buhari as one of us, Oke Ogun should give him maximum support to attain the next level he is aiming and  I am sure, we will enjoy him better than having other person in power.
Tijani Adeyemi  Ibrahim.
Iseyin