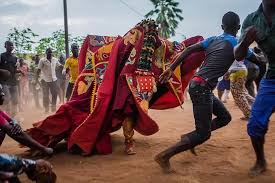 As 2018 egungun festival commences in Ibadan on Monday 18 June, there would be no masquerade dance for Ibadan High Chiefs this year.
Since the time of the late Oba Gbadamosi Adebimpe in 1976, masquerades used to pay homage to selected High Chiefs in their family compounds with the permission of the Olubadan.
Although no reason was given for the last minute suspension of masquerade dance for Ibadan High Chiefs but it might not be unconnected with security reason arising from the controversial chieftaincy review that confers kingship without domain on high chiefs.
Rising from a 2-hour security meeting with stakeholders at his Popoyemoja, Ibadan place over the weekend, the Olubadan of Ibadan land, Oba Saliu Akanmu Adetunji, Aje Ogungunniso 1stated that the decision to suspend the masquerade dance this year is in the overall public interest.
According to a press statement signed by  Adeola Oloko, personal Assistant and Media Director Olubadan sais "As the chief custodian of our culture and tradition, I also owed it a duty to work in tandem with the law enforcement agents not to turn the celebration of our custom and tradition into a theatre of war."
The Olubadan who commended the security operatives for smooth-free Oke'Badan festival last March urged them to raise the bar of egungun festival this year.
He also appealed to other stakeholders to cooperate with law enforcement agents by operating within the armbit of  law.
In attendance at the meeting are ACP A. O Abimbola who represented Oyo Police Commissioner; ACP Dan Miller, CIID, Iyaganku; Mrs. B. T Agboola who represented the State Director of SSS and five Divisional Police Officers of Mokola, Yemetu, Mapo, Idi Aro and Agugu. All the leaders of masquerades association in Ibadan land to include the Alagbaa, Baale Labala and others are  alsopresent at the meeting.