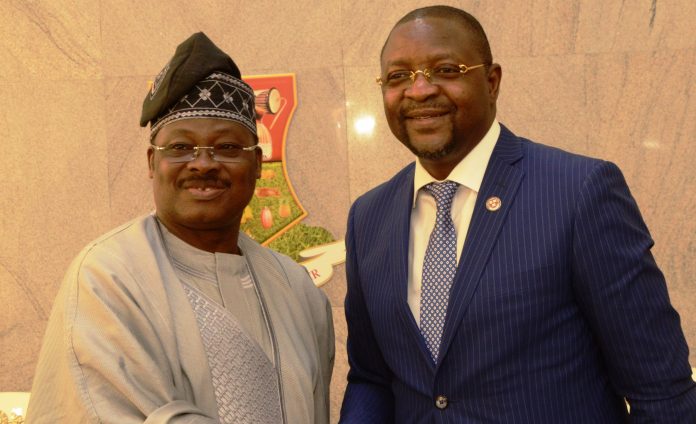 The Nigerian Communications Commission has stated its preparedness to partner Oyo State in its drive to become an Information Communication Technology (ICT) hub, because of the state's ranking as the fourth largest telecommunication services consumer.
The commission's Executive Commissioner, Stakeholders Management, Mr. Sunday Dare, disclosed this during a courtesy visit to the Governor, Senator Abiola Ajimobi, in his office, on Tuesday.
To this end, he said that the NCC would provide free internet services at the state-owned Technical University, Ibadan (Tech-U) by the end of July, as part of the commission's support for the governor's vision for establishing the university.
Dare said that the support would improve the educational and economic status of the state as free Wi-Fi would be available for students of Tech-U to access world-class academic materials and exchange programmes.
He said, "It is important for us to visit Oyo State because your (Ajimobi's) administration has set up necessary pillars for sustainable benefits accruable from ICT. One is the Technical University, which is unique in nature. We are also monitoring your other steps towards building an industrialized economy for the state.
"Fiber optic lines will be laid to connect the institution with other universities and polytechnics in order to acquire synergy in academic and social aspects.
"Being the fourth largest in the country in telecommunication services patronage, Oyo State stands to benefit more from ICT, because modern development is attached to technology. We will assist the development of ICT in Oyo State in our own little way."
In his response, the governor called on the commission to expedite action on their promised support in other to enhance the technological objectives of his administration, particularly his determination to make the state an ICT hub.
Ajimobi said, "Your visit is timely, particularly during this period when our repositioning agenda is at its peak in the state. We have deliberately ensured that our repositioning agenda is tailored towards making the state a hub of ICT.
"The technical university was established as the main thrust and springboard for this vision. And with this, I can say that we are emulating those countries that are at the forefront of global development. I thank and appreciate the NCC for this gesture.
"We will appreciate it more if you can expedite action on the support you have promised us for the university so that our aspirations towards growing an economy anchored upon technology would be achievable in record time."