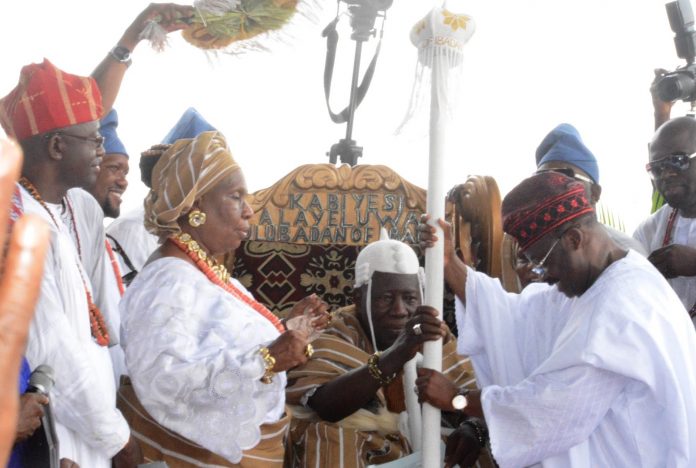 Olubadan of Ibadan land, Oba Saliu Adetunji, Aje Ogungunniso 1 has debunked the claims by Senator Abiola Ajimobi that he was consulted  by Oyo state government  before taking a decision on the recent review, elevation and presentation of staff of office to 2 kings in Ibadan.
Olubadan in a press statement signed by  the Media Director to Olubadan , Adeola Oloko said  'If I had been consulted, this error would have been avoided. The desecration of the crown would have been averted.'
Reacting to the remark of the Oyo State Governor, Senator Abiola Ajimobi at the mass coronation of 21 kings on Sunday, Oba Adetunji stated that the person or group who would use the royal stool of Olubadan for selfish political reason has not been born.
The first class monarch who confirms meeting with Governor Ajimobi at his office and Palace explains  "I wish to respectfully state that the Boade Panel was inaugurated on May 19, 2017, His Excellency, Governor Ajimobi invited me to the Governor's Office on Wednesday, June 14, 2017 after the panel had sat for 4 weeks. At that meeting, His Excellency, the Oyo State Governor, the High Chiefs and State House Correspondents would recall my opposition to the chieftaincy review. My question is did anybody put words in my mouth in that recorded tape? When he invited me to his office and visited me in the palace on Sunday, June 18, 2017, the Boade Panel was almost through with its job, when we met at the inner chamber, what the State Governor came to tell me was that he knew I should have been consulted first. So, it is not true that I was consulted, as claimed by him"
Olubadan who cautioned the government against  painting him with the tar brush of petty partisan politics said " I am a monarch, I am not a politician since Friday March 4, 2016, when I ascended the exalted throne of Olubadan I have opened the gate of our palace wide to all manner of people. If you belong to APC, PDP, Labour, Accord and/or more, you are most welcome. So, politics has nothing to do with my resistance or opposition to the chieftaincy review spearheaded by the Oyo State Government ".
Oba Adetunji also described as unfortunate the comment by the Governor that recent utterances from the palace are tending towards the political, adding if the State Governor has any demonstrable evidence of such, he should kindly provide it.
The monarchs explains that  "There is no press statement issued from the Olubadan media office which did not enjoy my blessing before it was made public. 'while I am aware that people react to age differently, I am not too old  to be misinterpreted by anybody, even at 89.
The Olubadan of Ibadan land, who congratulated all Ibadan people for keeping the peace despite the brazen abuse of Ibadan custom and tradition stated that these times would pass.
Oba Adetunji commended all his brother-monarchs for their solidarity and cooperation, say his opposition to the mass coronation exercise is to prevent breakdown of law and order, complication and dire consequences in Ibadan Chieftaincy System"